[
stardom than indian cricket
]
Latest from stardom than indian cricket
Sunil Gavaskar feels that if Rohit Sharma had decided he would bat, the India captain could have come in a little early, which could have made things a bit easier for India.

Published on Dec 08, 2022 07:11 AM IST
A lot has been said about the traditional 'superstar culture' running through Indian cricket, and this trend has become stronger with the IPL.

Updated on Nov 17, 2022 06:51 PM IST
Ever since Deepti Sharma ran out Charlotte Dean at the non-striker's end, there has been endless debate questioning the India all-rounder's action. The latest to offer his take on the episode and the whole topic of running out the non-striker if he/she is outside the crease is Ravi Shastri.

Updated on Oct 20, 2022 07:55 AM IST
Rishabh Pant slammed an entertaining knock for Leicestershire, during their ongoing warm-up Test match against India in Leicester.

Updated on Jun 25, 2022 09:10 AM IST
The power of cricket is reflected in mega- crore commercial deals, frenzy of Indian Premier League (IPL) games and the presence of fans waiting outside the hotel of the Indian cricket team, hoping to catch a fleeting glimpse of star players.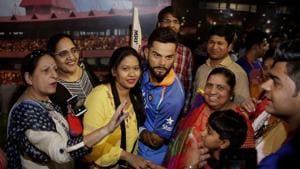 Updated on Jun 15, 2018 09:51 AM IST
Hindustan Times |
By
Amrit Mathur