Lady Gaga took to Instgaram to share that she has wrapped the shoot for the Joker sequel. Titled Joker: Folie à Deux, she plays Harley Quinn in the film.

Published on Apr 06, 2023 05:51 PM IST
Heath Ledger's Joker is well known by many people. A recent deepfake video shows how he would have looked like if he played the role without makeup.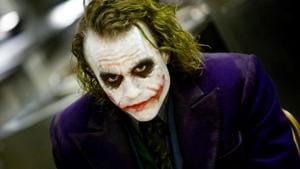 Published on Apr 03, 2023 04:39 PM IST
Director Todd Philips and star Lady Gaga took to Instagram to share the first look from the highly anticipated sequel to the 2019 film, that stars Gaga's Harley Quinn opposite Joaquin Phoenix's Joker.

Published on Feb 15, 2023 11:52 AM IST
Joaquin Phoenix's first look as 'Joker' Arthur Fleck was shared by director Todd Phillips on Instagram. Check it out.


Published on Dec 11, 2022 07:35 AM IST
Lady Gaga will soon play Harley Quinn opposite Joaquin Phoenix in Joker sequel, officially titled Joker: Folie a Deux.

Published on Oct 08, 2022 08:20 PM IST