TRP scam: Of the seven new accused, five are connected to the Republic TV group. Shiva Subramanyam, Priya Mukherji, Shivendra Muldhekar and Ranjit Waltkar are the other four besides Goswami.

A division bench of Justice S S Shinde and Justice Manish Pitale also said that a probe in any case cannot "continue for years altogether" and that the "state and investigating officer should stop at one stage".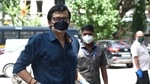 The bail was granted on a personal bond of
₹
2lakh and two solvent sureties of the same amount.

The plea filed by Umesh Chandrakant Mishra claims that his statement, recorded before the metropolitan magistrate, is the only true statement.

Maharashtra home minister Anil Deshmukh said the state government was taking legal opinion on the possibility of action against Arnab Goswami under the 1923 Official Secrets because of the WhatsApp conversation related to national security.