Latest from zika outbreak
Bengaluru-based doctor, Dr Gaurav Sharma, talks to Hindustan Times about the Zika virus, its treatments, the difference between Zika and dengue, prevention techniques and more.


Published on Dec 14, 2022 02:01 PM IST
By
Yamini C S | Edited by Chandrashekar Srinivasan
A five-year-old girl from Karnataka's Raichur has tested positive for Zika virus, making it the first ever case from the state.


Published on Dec 13, 2022 01:08 PM IST
Uttar Pradesh chief minister Yogi Adityanath will visit areas affected by the outbreak of Zika virus. He will meet the family members of those infected by the Zika virus to take stock of the health facilities being provided to them and the cleanliness drive in the area.


Published on Nov 10, 2021 06:07 AM IST
State health minister Jai Pratap Singh admitted that when the first case came to light, only a 400 metre radius of the IAF officer's house was concentrated upon, and it was increased to 6km only after the number of cases crossed 100.


Updated on Nov 10, 2021 10:20 AM IST
Health personnel have collected blood samples of 525 people between Thursday and Saturday, and sent them to the virology lab of the King George's Medical University in Lucknow and the National Institute of Virology in Pune for testing.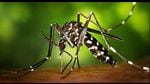 Updated on Nov 08, 2021 01:43 AM IST