This stop motion video of a 'pizza' being made with wool is incredible. Watch
The video shows a creation by an artist named Andrea Love.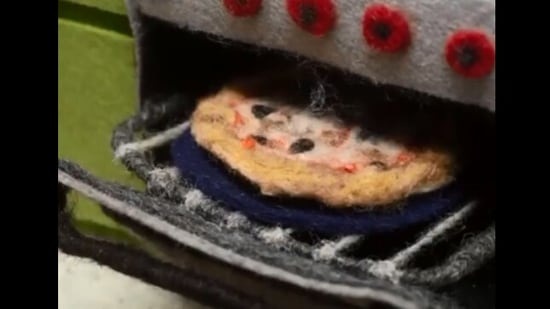 Published on Aug 04, 2021 09:06 AM IST
Are you a fan of pizza? Does the melting cheese and smell of freshly baked delight leave you drooling? Then you may love this stop motion video showcasing the process of preparation of a pizza - but it has a twist. The clip shows an artist creating a tiny pizza using wool.
The video shared on Reddit, was originally posted on Instagram by an artist named Andrea Love. The clip starts with the preparation of the pizza dough made from wool. The bowl, plate and even the oven are made from the same fabric. We won't spoil the incredible clip for you, so take a look at the video:
Shared on August 2, the clip has garnered over 43,500 upvotes and several reactions. The life-like stop motion clip had left many amazed. While some couldn't stop pointing out the detailing showcased in the clip, others expressed their wonder about the time taken to create the video.
"The steam coming out of the oven! The cheese pull!" gasped a Reddit user. "That and the smoke coming from the oven! The details are spectacular," commented another.
"Imagine how long it took to make this," said a third.
If the video left you completely amazed, check out this behind-the-scenes clip shared by the artist on her Instagram while creating the wool pizza video.
+
What are your thoughts on this stop motion pizza?
Close Story