Toddler cutely imitates her aunt performing ballet in viral video, netizens heart it
Jan 09, 2023 07:12 PM IST
The viral video that captures a toddler cutely imitating her aunt perfroming ballet is winning hearts online.
Toddlers imitating the actions of the people around them are probably among the most amusing and cute things one can capture on camera. And this particular video, where a toddler is seen imitating her aunt who is performing ballet, aptly exemplifies it. What makes the video even more delightful is that the toddler is clapping for herself after imitating each step. The clip was shared on Instagram, and it is so sweet that you may find yourself saying 'aww' that too multiple times.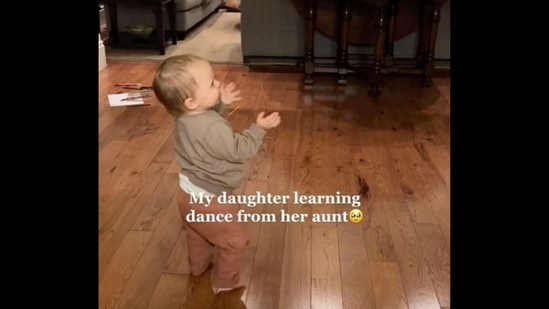 "Laura is her idol," reads the caption posted alongside the video shared on Instagram. The video shows the toddler's aunt, Laura, performing a cartwheel. She then takes a brief pause to let her niece perform it. As the video progresses, she performs pirouettes, and the toddler follows her. Towards the end, she executes some more steps, and little Lennie tries to copy her aunt. A text overlay on the video reads, "My daughter is learning dance from her aunt." A teary-eyed emoticon accompanies it.
Watch the video below:
Since being shared on December 16, the video has amassed more than 5.2 million views, and the numbers are still increasing. The share has also prompted many to share their thoughts in the comments section.
Here's what people shared in the comments:
"You're kidding me. This is the cutest, sweetest thing!!!" posted an individual. "She's soo good at following through just by watching!!" shared another. "I especially loved how she celebrated herself after every attempt! You go baby, girl!" expressed a third. "The little pointed toes tho," remarked a fourth. "I love the way she claps!!! She's her own hero!!!!" wrote a fifth.