Bigg Boss 11: Zubair Khan reveals how much he was paid per week for the show
Before the show, it was publicised that Zubair Khan is related to Haseena Parkar, underworld don Dawood Ibrahim's sister who died in 2014.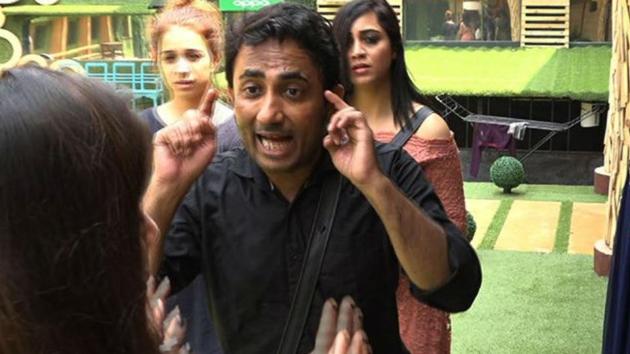 Updated on Oct 11, 2017 07:44 PM IST
Zubair Khan, one of the contestants on the current season of the controversial reality show Bigg Boss, left the house, as he claims, after a heated argument with its host, Bollywood actor Salman Khan on Sunday. On the show, he was evicted after getting the least number of votes among all the nominated contestants.
Later, reports came that Zubair took many sleeping pills. Apparently miffed with Salman Khan, Zubair says he is going to file a complaint against Salman Khan. He says, "I am going to Lonavala to file a complaint against Salman. It's a fake show. They tell the contestants what to do."
He seems really angry with Bigg Boss 11 host. "Salman Khan is a puppet and can dance shirtless for money. I am not Vivek Oberoi who will get scared of him. I am also not Arjit Singh who will say 'sorry bhai' on social media. I went in the show as a director. I didn't know they are introducing me as Haseena Parkar's relative on the channel."
Before the show, it was publicised that Zubair is related to Haseena Parkar, underworld don Dawood Ibrahim's sister who died in 2014. However, reports claimed he was not related to Parkar. Zubair says he never implied so. "Six years ago, I said this live on a TV channel. My wife's name is Sana Khan and mother-in-law's name is Noor Jahan. I never said anything. Now, if they're related to Dawood Bhai, you should ask them."
He further says, "If I wanted cheap publicity, I could have done it before the release of the film I made, Lakeer Ka Fakeer, by taking such names. I never said anything at that time. This is the channel's ploy to use Dawood's name."
He vehemently denies being thrown out of the show. "I have left the Bigg Boss house, nobody evicted me. Salman Khan threatened me on camera that he won't let me work. There's a saint inside the house, Shivani ji, nobody came to her rescue when she was disrespected. People are scared due to their contract."
Suddenly he changes tack and channels his anger to another contestant on the show, Arshi Khan. He says, "The contract says that you can't say anything against religion. Arshi Khan is disrespecting the religious texts. If Vikas Gupta is gay, this is his personal choice. Salman Khan talked about these things, but the only thing shown on the channel was his conversation with me."
He returns to the question whether he is related to the underworld dons? "See, if somebody works in the film industry, people ask them have you seen Salman, Shah Rukh? In the same way, I have grown up in Dongri, Imambada and Nagpada."
Zubair then tries to establish himself as a self-made person. "I was a child labour in a theatre. I sold ice-candies in Pahlaj Nihalani's theatre called Nishat. I have done many odd jobs to become a director. My father was not Salim Khan. Salman Khan's isn't the almighty who will write my fate."
He adds, "Salman says how can I abuse someone? You go to YouTube and write Salman Khan giving gaali in public, you'll find videos. In fact, he did it around Bajrangi Bhaijaan also. You search all the footage and tell me if I said I am Dawood's son-in-law."
He says he will not return to the show. "They were calling me back. When I attempted suicide after argument with Salman Khan. I came here for my family, for my wife and kids. These guys are only showing 'gaalis'. If I wanted I could have said him a lot of things on the national television. I said too. But they were edited."
He also reacted to the news that the producer of Haseena Parkar biopic is filing a case against him for saying that he was the producer. "Samir Antule (Haseena Parkar's co producer), who is filing a case against me, should go and ask the channel. If I wanted to take advantage of Dawood's name then why would I live with my mother! Who has Pradeep Sharma arrested in the extortion case? Dawood's brother, not me. I have been a journalist. I have done undercover investigation."
He doesn't seem bothered by the contract he signed before entering the house. "The contract was of two years. I would have gotten Rs 25,000 every week. After two years, I would have gotten Rs 50,000 every month. Free ka paisa kisko bura lagta hai!"
He adds, "The contestants are mentally prepared, brainwashed. They don't give access to any clocks or watches or TV. They get taken to 2-3 different hotels. I wasn't getting a chance to retaliate, so I took all my pills."
He concludes the conversation with an update on his health. "The side effects are happening now. My intestines are affected. I am having digestive problems."
The author tweets at Twitter/@nawabjha
Close Story
Personalise your news feed. Follow trending topics