Bigg Boss 12, Weekend Ka Vaar, day 62 highlights: Salman pulls up all over breaking rules, Shivashish Mishra quits the show
After an explosive episode on Friday, Saturday's Weekend Ka Vaar saw Shivashish Mishra being asked to leave the house. Salman Khan explained in detail how he had a golden opportunity but he chose to waste it. He added how everyone who signs the contract, has to abide by the rules of the Bigg Boss house. We also saw Anup Jalota make a surprise entry in the house. When asked by Salman about his relationship with Jasleen Matharu, he clearly stated that he has always seen her as his student and nothing else.On Friday, Shivashish Mishra did the unthinkable—he disobeyed the directive of the new captain Romil Chaudhary and, in doing so, disrespected the show itself. Romil was asked to pick three participants to be sent to the kalkothri (jail). After sending Megha Dhade, Romil picked Shivashish to be sent to the kalkothri. Clearly upset with the decision, not only did he not enter the jail, he flung the jail ticket in the air, clearly refusing to accept the decision of the captain. Despite two hours of persuasion, Romil could not prevail upon him. This incurred the wrath of Bigg Boss, who not only cancelled the task altogether, but nominated all the contestants except Romil for next week's evictions.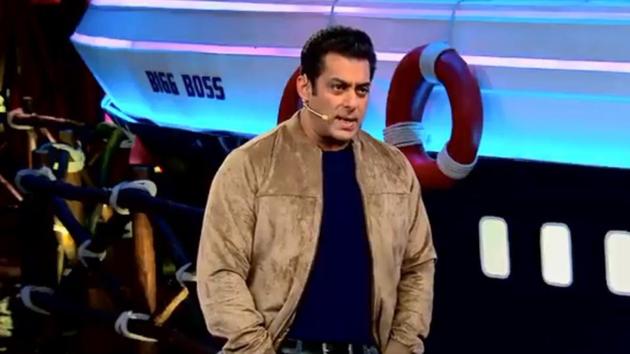 Updated on Nov 17, 2018 10:57 PM IST
10:05 pm IST
Salman Khan pulls up contestants, Farah Khan makes an entry
The inevitable happens: Shivashish Mishra bids farewell to all the contestants and leaves the house. Sreesanth breaks down again even as Dipika tries to console him. Salman again connects with housemates and pulls up some for being happy for Shivashish. He says that the housemates are bound by contract to obey the rules in the house. After a while, Farah Khan enters the house and asks Deepak Thakur and Somi Khan to enact a song called Gerua which she had choreographed on Kajol and Shah Rukh Khan.
9:50 pm IST
Salman Khan deals with Shivashish Mishra
The time has come to deal with the issue of the behaviour of the contestants, particularly Shivashish Mishra. Salman is obviously upset with his behaviour in the house, more so, on Friday. Salman also says how he is disappointed as the housemates never follow the rules during the tasks.Salman tells Shivashish that he has insulted Bigg Boss and he will have to face the outcome. Salman then declares that he is being ousted from the house.
9:40 pm IST
Salman Khan has a surprise for Jasleen Matharu
Salman Khan tells Jasleen Matharu that there is a surprise awaiting her in the Khaas room. Jasleen finds Anup Jalota and she is super excited to see him. Salman then asks Anuj what is the status of his relationship with Jasleen. Anuj clarifies that he has never had any romantic feelings for her.
9:30 pm IST
Caller asks Surbhi Rana about her position in the house
A caller reminds Surbhi Rana that she was the one who started the Happy Club. He then asks when would all see her happy again. To this, Surbhi says that she is a clean person. But she thinks that since the game keeps changing and hence she is simply trying to adapt to the different situations.
9:15 pm IST
Salman Khan has a frank chat with all contestants
Salman has a frank talk with all on the issue of nomination. Romil explains why he wasn't surprised to see that Dipika Kakar Ibrahim got nominated. Salman also questions Karanvir Bohra about his decision to punish Sreesanth. Sreesanth, on his part, explains that he is not angry with Karanvir. Salman also tells Karanvir that his wife has sent a letter to Bigg Boss stating that Salman tends to humiliate her husband. To this, Karanvir says he is embarrassed about it and is ashamed too. He adds that he likes Salman's pranks and that he doesn't take offence to any of it. He apologises to Salman.
9:05 pm IST
Salman Khan gives a recap of week's development
Salman Khan introduces the Weekend Ka Vaar with a recap of all that happened in the house of the week with special reference to Friday's happenings.
Close Story