Bigg Boss 2 Tamil, episode 6: Janani Iyer and Aishwarya Dutta lock lips on the show
Updated on Jun 23, 2018 09:21 AM IST
From Mumtaz and Balaji's diaper-wearing task to Janani-Aishwarya lip lock, a lot happened in the 6th episode of Bigg Boss Tamil. Here are all the details.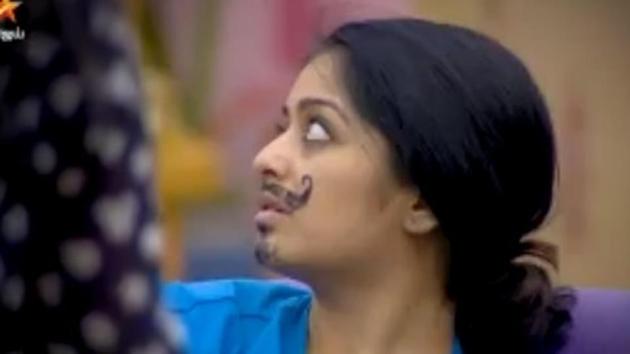 Hindustan Times |
HT Correspondent
Eggs are broken on housemates' heads and people are pushed into the pool over and over again -- it was chaos in Bigg Boss 2 Tamil house on Friday.
As part of a task, Mumtaz and Balaji are expected to wear diapers throughout the day and behave like babies while Janani and Vaishnavi have to act like men. Aishwarya and Ramya are expected to play the role of twins who answer questions asked to one by other. The contestants begin well, however, they get lazy soon.
The highlight of the episode is probably when Aishwarya and Janani locked lips, or so it seemed, for the task.
Nithya's curt response hurts the house members, especially Aishwarya, who is mostly sweet to the others. Everyone sits down to speak about Nithya and everytime she has been rude to the housemates. Nithya also doesn't spend enough time with the other members and only Senrayan speaks to her that too to discuss Balaji.
Captain of the house, Janani Iyer is called to the confession room, where she is warned that if contestants do not perform, the entire luxury budget will be taken away.
The task comes to an end and members only get 600 points as not all of them performed equally. However, 300 bonus points are given to the housemates who did well. The celebration in the house, however, comes to an end because of Nithya.
Mumtaz tells Mahat that whichever team she is assigned to next, she will rethink if Nithya is in the same team. Later in the night, before dinner is served, Mumtaz tells Nithya that cooking is the first preference. Then Nithya explains how she was nearby, but Mumtaz answers that she did not notice. She says, "When you know that you have a responsibility, you need to stay close by."
Mumtaz, Daniel and Yaashika have to decide how the luxury budget will be spent. The team is unhappy with their choices as they miss 250 points in the hurry.
Janani is then asked to choose two members who underperformed the entire week and she chooses Balaji and Nithya. For some unknown reason, she breaks down. The episode comes to an end.
Follow @htshowbiz for more
Topics
Close Story
Personalise your news feed. Follow trending topics