Game of Thrones' end suddenly gets too real for fans with new teaser. Check out Twitter reactions, memes
Fans have flocked to Twitter to cry together about the impending series finale of Game of Thrones, a hit HBO epic drama that kept viewers hooked for nine years.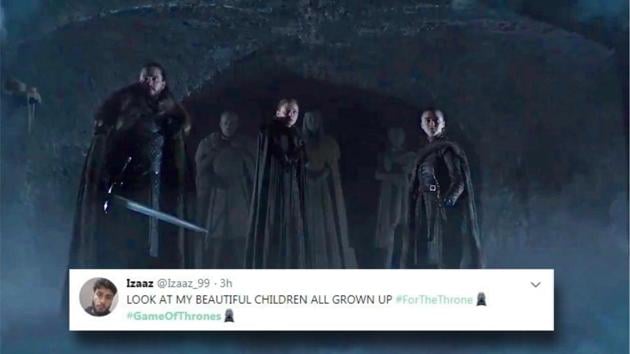 Updated on Jan 14, 2019 06:48 PM IST
HBO dropped a new teaser for its hit epic fantasy drama Game of Thrones on Monday and the fans are suddenly waking up to a sad realisation: their favourite show is coming to an end. After watching the 1 minute 28 seconds long clip, fans took to Twitter to vent their frustrations.
"I just realized that this is the last time i will wait for a #GameOfThrones trailer," a fan wrote in a tweet. "When those last credits role and we all start tweeting "Now My Watch Has ended"??? IM GOING TO BE IN F***IN PIECES!!!," wrote another.
In the teaser, we see the crypt of Winterfell and hear the voices of the late Ned and Catelyn Stark as they speak of Jon as he walks by their statues. Jon is joined by Sansa and Arya Stark, and as three of the surviving children of the show's central clan walk further through the family crypt they arrive at a set of three statues that show ... themselves.
Check out more reactions to the teaser:
The eighth and final season will begin airing on April 14, 2019. It will have six episodes of 1.5 hour runtime each.
Topics
Close Story