House of Cards teaser: Madam President declares the reign of middle-aged white man over
Sep 27, 2018 07:49 PM IST
The teaser for the final season of House of Cards is out and Robin Wright's Claire Underwood will take over now.
Netflix has released the teaser for the sixth and final season of House of Cards. The new season, with no trace of Kevin Spacey's Frank Underwood, is dominated by Robin Wright's Madam President, Claire Underwood.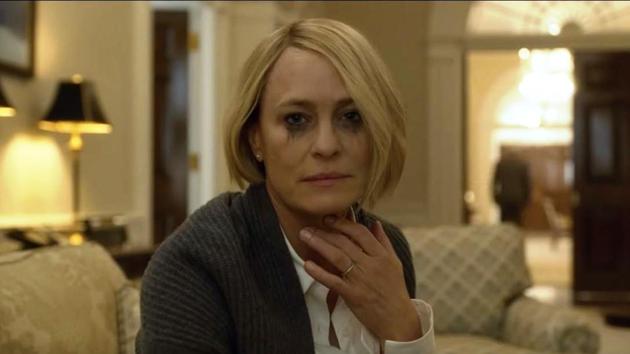 The teaser begins with Claire defending her 100 days of presidency to the American people. She calls the tenure so far difficult and cites her husband's death as the reason. Of course, once alone, the tears turn to smiles as she now begins looking into the camera, speaking to her audience directly, just like Frank used to. Look at her, she is the captain now.
However, she has her own fires to douse. Those wronged by Frank are now after her life to make things right with them, her kingdom doesn't trust her, she had enemies all around. But she uses Frank's death as a weapon and turns him into the villain. "Whatever Francis told you the last five years, don't believe a word of it," she says with mascara smeared eyes and a smug smile on her face. "The age of the middle-aged white man is over," she says.
Robin is joined by newcomers Diane Lane and Greg Kinnear as well as Cody Fern. The series also brings back Michael Kelly, Jayne Atkinson, Patricia Clarkson, Constance Zimmer, Derek Cecil, Campbell Scott and Boris McGiver.
The season will "bring closure of the show for fans" and bring back to work some 2,000 people in the Baltimore area whose livelihoods depend on the show, Netflix's chief content officer Ted Sarandos said in December.
Kevin Spacey left the show after he was accused of rape and sexual harassment by more than a dozen men in 2017's #MeToo movement. His exit conveniently coincided with Claire Underwood's rise to power, which meant the series could focus entirely on Claire — and give Robin the pay parity she'd requested.
The show premieres on November 2.
Follow @htshowbiz for more