Shilpa Shinde reveals why she would fight with Vikas Gupta: He filed a criminal case against me
Updated on Jan 20, 2018 03:45 PM IST
Bigg Boss 11 winner Shilpa Shinde has revealed why things were so bad between her and Vikas Gupta initially in the house.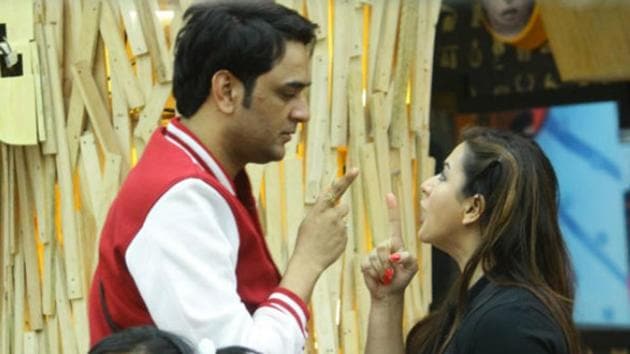 From the moment they entered the Bigg Boss 11 house, Shilpa Shinde and Vikas Gupta fought like there was no tomorrow. From name-calling to screaming to crying, the initial few weeks were hell for the two of them and the rest of us who had to put up with it all.
What was worse was that no one really knew why they were fighting anyway.But, in a new interview since her big win on the show, Shilpa has finally revealed why her relationship with Vikas was so sour.
Shilpa told Mumbai Mirror that Vikas and other producers of her hit show, Bhabhiji Ghar Par Hain, upon realising that she was entering Bigg Boss, did everything in their capacity to sabotage her plans. "Vikas Gupta knew that I was going to come in Bigg Boss 11 and he had kept all things ready so that I do not get in the show. They filed a criminal case against me as soon as they came to know that I was going into Bigg Boss. I am not saying that Vikas Gupta is the main culprit but the roots of all this started with him, along with the producer of the Bhabhiji Ghar pe Hai. As a programming head, he could have settled a lot of things earlier too but I remember him saying that 'Main Aapko ghar pe Bithaunga,'" she said.
While there was clearly enough reason for them to be enemies on the show, Shilpa doesn't feel the same anymore. While she has rejected the idea of being friends with Vikas, she has however said that she might work with him again. "In one of the tasks in Bigg Boss, I had promised Vikas that I would work with him on a small digital project. Just a two-day assignment I may have to do with him. And you never know, what he said might just be for the camera. But I can never be friends with Vikas Gupta. He tried to be friends with me on the show. I have already made my list of who will not be invited for my Bigg Boss victory party. Hina Khan is definitely one of the names I do not consider to be in the party," she said.
Shilpa is now looking to work in a few Hindi films, web series or as a judge or host of television reality show. She has made up her mind to never go back to television soaps.
Follow @htshowbiz for more