India-UAE ties: Abu Dhabi positions itself as the Sunni alternative
Hindustan Times, New Delhi |
Pramit Pal Chaudhuri
Jan 28, 2017 01:23 AM IST
Abu Dhabi's increased support of moderate Islamic institutions and drop in interest in Pakistan, as well as its recognition that India is currently the fastest growing major market for oil and gas has inspired its sudden interest in developing a close relationship with New Delhi.
In spring 2015, the Abu Dhabi royal family urged Prime Minister Narendra Modi to consider a state visit to the United Arab Emirates. New Delhi was unenthusiastic. India's economic stakes in the UAE were weighed against the Emiratis close relationship with Pakistan. Dubai's status as a home-away-from-home for Dawood Ibrahim rankled.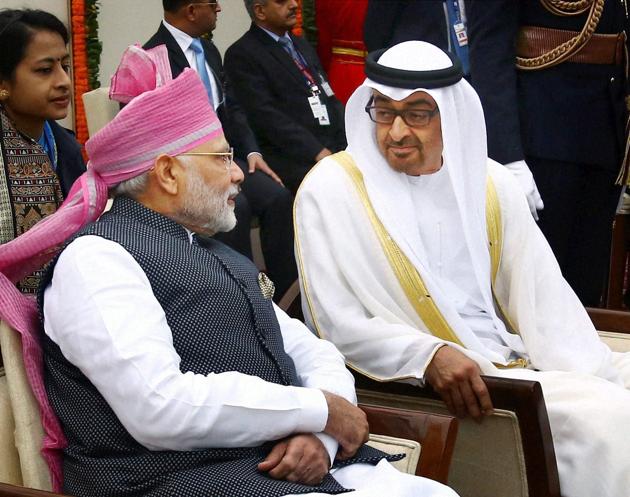 Abu Dhabi indicated it was prepared to talk about counterterrorism, including Pakistan. New Delhi was pleasantly surprised to find the Emiratis were serious: the infamous days when it was one of three countries to recognise the Taliban regime were over.
Modi flew to the UAE in August that year. Crown prince Sheikh Mohammed bin Zayed's coming as Republic Day chief guest this year sealed the new Delhi-Abu Dhabi relationship.
Read I India-UAE to increase trade by 60%, to come up with action plan by June
There are several reasons why the UAE has suddenly discovered India.
Foremost is Abu Dhabi's sense that its years of acquiescence to Saudi Arabian and Pakistani promotion of Sunni extremism is now threatening to engulf the entire region. In a speech to the UN last year, UAE foreign minister Sheikh Abdullah bin Zayed warned of the dangers "organisations, most notably Daesh, Al Qaeda, Hezbollah" which "exploit religion for political purposes" posed to the region.
The UAE has quietly supported the creation of moderate Islamic institutions such as the Muslim Council of Elders, the Global Forum for Prompting Peace in Muslim Societies and the Sawab and Hedayah Centres. Last year, notes James Dorsey of the Middle East Institute in Singapore, the Emirati underwrote a clerics conference in Russia which, when defining true schools of Sunni thinking, pointedly excluded Saudi-backed Wahhabism, Salafists and Deobandi school.
King's College Gulf expert, David B Rogers, goes as far as to say the UAE has become an advocate of its own brand of secularism, one in which "the decisions of ruling elites are informed and shaped, rather than mandated and sanctioned, by Islam".
The UAE has positioned itself as a fourth force in political divisions that presently wrack the Sunni world. It has distanced itself from the Wahhabism promoted by Saudi Arabia. It strongly opposes the anti-monarchical conservativism of the Muslim Brotherhood. And keeps aloof from Turkey and Qatar, which have supported radical Salafi groups including, at times, the Islamic State.
Read I President Pranab Mukherjee thanks UAE for embracing Indians, helping them flourish
This has automatically devalued the importance of Pakistan for the UAE. The Pakistan Army's decision to refuse to join UAE-Saudi military efforts to support Sunni forces in Yemen's civil war accelerated this shift. But more fundamental was a sense that if secularised Islam was the UAE's future, India made more sense than its western neighbour.
The India gambit also fits Abu Dhabi's economic vision.
With the US effectively energy independent and China's double-digit growth years behind it, the fastest growing major market for oil and gas these past several months has been India. This has been noticed by Abu Dhabi, the only one of the Emirates with oil and gas wealth. Offering to have its main sovereign wealth fund, the Abu Dhabi Investment Authority, put $ 80 billion into India's infrastructure builds both an economic bond and helps promote a future market.
Abu Dhabi also has two other economic goals in mind. One is to develop capacities in technology sectors such as renewable energy and software, with the idea of diversifying from hydrocarbons. Again Indian corporations are obvious partners in such efforts. Pakistan stands nowhere.
Read I The Abu Dhabi crown prince as the R-Day guest suggests India's renewed West Asia focus
The other goal is to evolve Dubai into a genuine global financial hub. "The Abu Dhabi royal family see the Dubai family as a bunch of buccaneers who allowed all sorts of riff-raff to settle down in Dubai," explained one Western diplomat. The vision is to make Dubai more like Singapore. Again, India makes sense, Pakistan not.
Finally, Abu Dhabi and many other Gulf states are concerned at the region's lack of a geopolitical anchor. The US is seen as unpredictable and disinterested in the region. Newly-elected President Donald Trump's expressed dislike for both Iran and Saudi Arabia only continues, in cruder form, the Obama administration's policy of staying as far removed from the Gulf as possible.
The Saudis and Emiratis were further troubled when the Obama administration, concerned at outsized civilian casualties in Yemen, blocked the sale of bombs and missiles to their respective air forces. Which is one reason Abu Dhabi has begun exploring the possibility of buying Indian-made arms.
Read I UAE will fill up half of Mangalore oil reserve as Modi-Abu Dhabi Crown Prince sign deals
The UAE has sought to hedge its external relations with other countries as well. Crown prince Bin Zayed visited China in December 2015. The UAE's smaller wealth fund, Mubadala, announced plans to launch a $ 10 billion investment fund with two Chinese state institutions. ADIA opened a Hong Kong office last October.
However, Beijing has limited strategic reach in the Persian Gulf. Abu Dhabi is also wooing Russian companies to set up shop in the UAE. But the Emiratis and the Russians support opposing sides of the Islamic State. The UAE also supports the Iranian nuclear deal that Trump has said he will scrap.
India, with its ambitious naval plans in the Indian Ocean, is emerging as a major pillar of this hedging strategy. While New Delhi remains averse to the idea of projecting its power into the Gulf, Abu Dhabi wonders how long India will be able to stay out given its strategic interests and rising military power.
Abu Dhabi's attempts to play power politics while maintaining the UAE as the economic centre for all is not without complications. It remains close to the present ruling faction in Riyadh, seeing them as reformers, but this has led it into it a messy war in Yemen.
Its intervention in Libya led to a proxy war with Qatar. Oman is the Gulf country that most closely shares the Emirati worldview, but is unfortunately the weakest among these states. Tellingly, Muscat has traditionally been New Delhi's closest friend in the region.
"Exciting news! Hindustan Times is now on WhatsApp Channels
Subscribe today by clicking the link and stay updated with the latest news!"
Click here!
Get Latest
World News
along with
Latest News
from
India
at Hindustan Times.