Afghanistan too big for Pakistan to swallow, for Talibs to govern: Amrullah Saleh
The 48-year-old Resistance leader has recently declared him as the caretaker president of Afghanistan.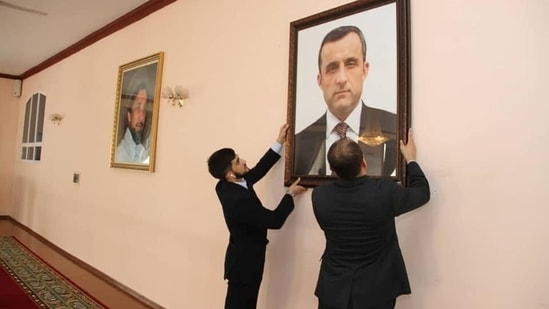 Published on Aug 19, 2021 01:50 PM IST
The self-proclaimed caretaker president of Afghanistan Amrullah Saleh on Thursday tweeted that Afghanistan is too big for Pakistan to swallow and too big for Talibs to govern. "Don't let your histories have a chapter on humiliation and bowing to terror groups," he wrote as he was reacting to the tweet of a former White House official.
As the Taliban took control over Afghanistan on August 15 and Ashraf Ghani left the country, Amrullah Saleh announced that under no circumstances, he will bow to the Taliban. On August 17, he declared himself as the caretaker President and said that as per the constitution of Afghanistan, in absence, escape, resignation or death of the President, the first vice president becomes the caretaker President. "I am currently inside my country & am the legitimate caretaker President. Am reaching out to all leaders to secure their support and consensus," he said.
What is Panjshir Resistance? 10 things to know about alliance against Taliban
Though Saleh's whereabouts are unknown, he is believed to be in the Panjshir Valley of the Panjshir province of Afghanistan, firming up the National Resistance Front of Afghanistan.
"It is futile to argue with POTUS on Afghanistan now. Let him digest it. We the Afghans must prove that "Afghanistan is not Vietnam and the Talibs are not even remotely like Vietcong. Unlike US/NATO, we have not lost spirit and see enormous opportunities ahead. Unless caveats are finished. Join the resistance," Amrullah recently tweeted.
A follower of Ahmad Shah Massoud, Amrullah Saleh, a native of Panjshir Valley, was a member of the Northern Alliance, which was formed when the Taliban came to power in 1996. He received his military training in Pakistan and in 1997 was appointed by Massoud as the liaison officer of the Northern Alliance in the Afghan Embassy in Tajikistan.
As part of the Nothern Alliance, Amrullah Saleh became a point-person of the CIA in Afghanistan.
After the Taliban regime was toppled, Amrullah Saleh became the head of the National Directorate of Security in 2004, when Hamid Karzai was the president. Then he served as the interior minister of Ashraf Ghani presidency and later became the first vice president. The Afghan embassy in Tajikistan has put up his photo as the caretaker head of state.
Topics
Close Story
Personalise your news feed. Follow trending topics