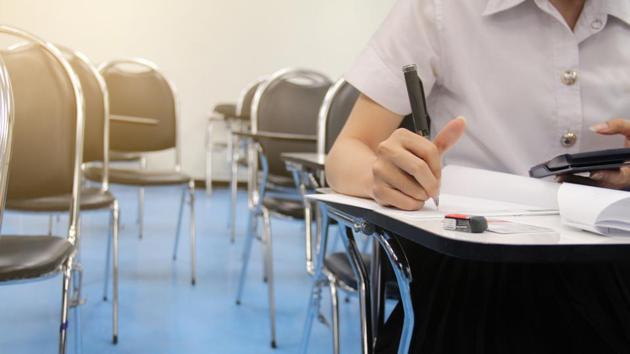 After studying in UK, Indians returning to offer 'contract cheating' online
The fees for selling these assignments can range from a couple of hundred pounds for one essay to as high as £6,750 for a PhD dissertation.
UPDATED ON MAY 04, 2018 04:56 PM IST
Amid growing concern over "contract cheating" or selling assignments for a fee, UK experts have come across instances of Indian students with experience of academic demands in British universities returning home and offering essays and assignments to current students online for a price.
Contract cheating, first reported in academic circles in 2008 by Thomas Lancaster and Robert Clarke at Birmingham City University, has become more sophisticated over the years, making it difficult to detect through usual plagiarism detection software.
Lancaster, now based at Imperial College London, shared recent research that showed a "lot of UK students" continuing to use Indian writers to complete essays and assignments for a fee delivered online.
"We're also seeing people come to the UK to study at a particular university. They then gain knowledge of that university and contacts in the UK, then go back to India to set up a writing business specialising in the university where they studied," he said.
"It's a sophisticated market and a new type of international outsourcing."
Lancaster, an academic specialising in computer science and detecting plagiarism, said "contract cheating" provides a good wage for a worker in India. "A UK student can afford to pay for help. We see it all the time, whether it's an essay, a computer programming assignment or an entire dissertation," he said.
"It's a big problem for education and UK universities aren't doing enough to address it," he added in the context of The Guardian publishing new figures last week that showed the number of students caught cheating at top universities had shot up by a third in the past three years.
Lancaster, who also authored a research paper on essay-writing in India, said Indian writers offering essay writing services tend to be highly qualified, with many claiming to have MBAs and even PhDs.
According to the Quality Assurance Agency (QAA), an independent body tasked with safeguarding standards and improving the quality of higher education, "advertising activity of essay mills has increased in recent years".
More than 100 websites and internet forums offering assignments to students are to be blocked on campus computers and wi-fi systems.
The prices quoted by such websites depend on the complexity of assignments and tightness of deadlines. They can range from a couple of hundred pounds for one essay to as high as £6,750 for a PhD dissertation.
Ian Kimber of QAA said cheating continued to "pose a real threat to UK higher education's reputation for excellence…Our guidance for universities and colleges offers practical advice on detecting and addressing contract cheating – but it's clear that there is more work to be done."
Topics
Close