All you need to know about Prachanda's complicated relationship with India
Hindustan Times |
, Kathmandu
Anil Giri
Aug 03, 2016 10:54 AM IST
Maoist leader Pushpa Kamal Dahal "Prachanda", the communist leader who is set to become Nepal's premier for the second time after the resignation of Prime Minister KP Sharma Oli, has often flip-flopped on relations with India.
Maoist leader Pushpa Kamal Dahal "Prachanda", the communist leader who is set to become Nepal's premier for the second time after the resignation of Prime Minister KP Sharma Oli, has often flip-flopped on relations with India.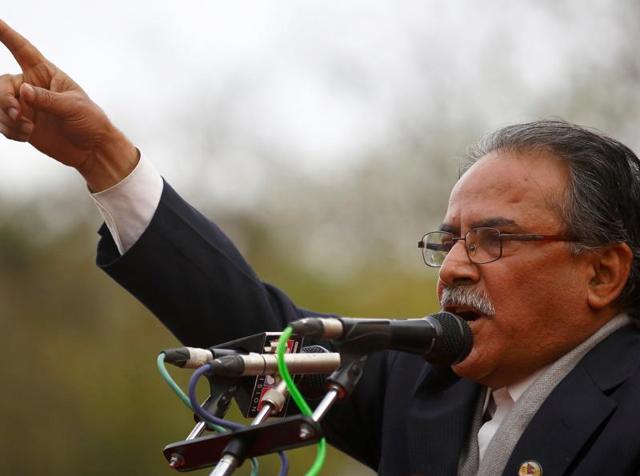 Prachanda has had a long association with India, having spent many years in the country during Nepal's civil war from 1996 to 2006. At that time, India was a safe haven for Prachanda and many Maoist leaders, and they never tried to antagonise Indian authorities that were fighting a domestic Maoist insurgency.
Here are some key points you need to know about Prachanda and his ties with India:
1) Prachanda once sent a letter to the then BJP government, seeking India's goodwill and moral support for the Maoist movement in Nepal and expressing a desire for cordial relations with New Delhi.
With the rise of the domestic Maoist insurgency, India engaged with Nepal's Maoists and Prachanda, thinking that the move could encourage Indian Maoists to join peaceful politics. Prachanda and the erstwhile Seven Party Alliance signed a 12-point agreement in New Delhi that many believe is the basis for Nepal's transition from a monarchy to federalism.
2) After signing the Comprehensive Peace Accord in 2007, Nepal decided to hold elections to a Constituent Assembly in line with the 12-pont deal. Maoists emerged the largest party in these polls and Prachanda briefly served as prime minister during 2008-09. At the time, Prachanda had very cordial relations with Indian leaders and diplomats.
However, Prachanda chose to visit China first, breaking the long tradition of Nepali premiers visiting India first. This irked India and Prachanda took a series of steps that further antagonised the Indian side. He urged that all treaties and agreements with India should either be scrapped or replaced. Matters reached a low point when the Prachanda-led government decided to sack then army chief Rookmangud Katawal while India opposed the move. Following the impasse, Prachanda resigned and blamed India for his fall.
3) Prachanda was replaced in the post of premier by another leftist leader, Madhav Nepal. Prachanda then claimed India was behind the Nepal's elevation to the post and said: "We will talk to the owner not the servant." Relations between India and Nepal's Maoists dipped and Prachanda raised the issue of national sovereignty and publicly said he would never bow his head before India.
4) Time and again, Prachanda has tried to move closer to China. He reportedly made some secret visits to China and inspired Chinese firms to invest in Nepal's infrastructure and energy projects.
5) After prime minister Nepal failed to deliver a new constitution through the Constituent Assembly process, Prachanda again reportedly became close to India and worked for holding elections to the second Constituent Assembly under the leadership of then Chief Justice Khilraj Regmi. But Prachanda's party lost the polls and he again blamed India and some foreign powers for engineering the debacle.
6) Prachanda has often been inconsistent in his public statements about relations with India. After the massive earthquakes of 2015, Prachanda tried to get close to the Chinese, who reportedly insisted on a grand left alliance and helped bring Prachanda and another veteran communist leader, KP Sharma Oli, together. Expressing displeasure with the new constitution that was adopted soon after, parties from the Madhes region blocked key trade points with India. It was then that Prachanda famously said in Kathmandu, "Nepal does not want to be India's yes man." He also criticised India for "imposing" the blockade in Nepal.
7) After Oli became the premier last October, there was a gradual erosion in Prachanda's political position. The parties of both Prachanda and Oli share the same leftist vote bank and this challenge made Prachanda look for an alternative to Oli. Many in Kathmandu believed Prachanda once again reached out to India to topple Oli's government. Prachanda also sent his trusted lieutenant Krishna Bahadur Mahara to India to talk with Indian officials.
Many believe Prachanda tilted towards India to only fulfill his political ambitions since he has also publicly said he will also continue to strive to maintain the ties with China that were forged under Oli.