22 killed in suicide attack outside Shia mosque in Kabul
Updated on Sep 29, 2017 11:19 PM IST
Eyewitnesses said the attack was carried out by a suicide bomber near a Shia mosque in Qala-e-Fathullah area of Kabul.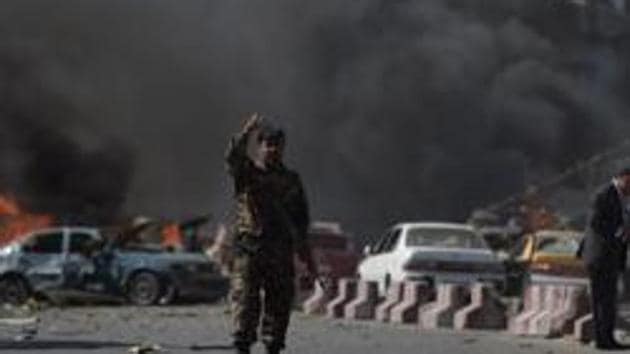 At least 22 people were killed and dozens more injured when a suicide bomber blew himself up outside a Shia mosque in the Afghan capital of Kabul on Friday.
The explosion occurred at 2pm local time in Qala-e-Fathullah area of Kabul as worshippers were leaving the mosque after weekly Friday prayers. Eyewitnesses were quoted by Tolo News channel as saying that the attack was carried out by a suicide bomber.
A "suicide bomber who was grazing sheep has detonated himself outside" the mosque, Gen Salim Almas, criminal investigative director of Kabul city, told AFP.
Police said 22 people were killed by the blast. A photo posted on Twitter purportedly taken at the scene of the attack showed a man lying on the ground, covered in blood.
The bomber was unable to enter the mosque as a policeman spotted him and opened fire, reports said.
No group claimed responsibility for the attack. The Islamic State and the Afghan Taliban have claimed recent attacks and bombings in Kabul and other parts of Afghanistan. Both groups have also repeatedly targeted Afghanistan's Shia minority.
Friday's attack came as Shia Muslims prepared to commemorate Ashura, one of the holiest dates in the Islamic calendar which falls this weekend and is the most important Shia observance.
It falls on the 10th day of Muharram, which is the mourning period for the seventh-century killing of Imam Hussein, the grandson of Prophet Mohammed.
(With inputs from agencies)