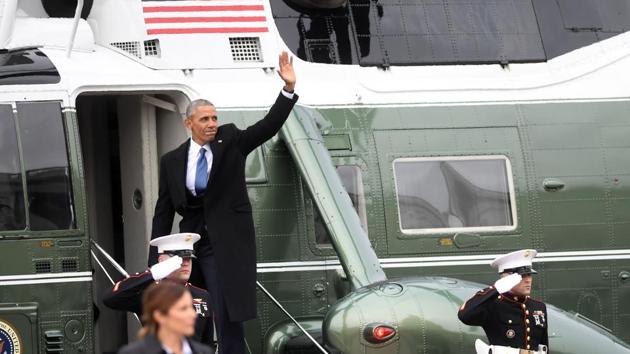 Barack Obama, the first 'Indian American' president
Former President Barack Obama hired more Indian Americans than any other president before him. Though the number had been rising incrementally over the years, he opened the floodgates.
By Yashwant Raj
PUBLISHED ON JAN 22, 2017 03:08 PM IST
As they emerged from one of those typically cavernous rooms that look specially designed for international meetings, one Indian diplomat recalled later telling a colleague, "It was difficult to tell Indians from Americans."
Nisha Biswal, a senior official in the American delegation was of India descent, as was Atul Keshap, her deputy at the time. And, the Indian official, who did not want to be identified, said, stretching the story, there might have been a few more.
He could have been exaggerating a bit, of course, but only a bit.
Former President Barack Obama hired more Indian Americans than any other president before him. Though the number had been rising incrementally over the years, he opened the floodgates.
According to one estimate, there were 75-80 Indian Americans in his administration at one point, and that is the highest ever cited for the tiny ethnic minority of about 3 million, which has made some call Obama the first Indian-American president.
"Just the way Bill Clinton was once called the first black president," said Shekar Narasimhan, a top Democratic strategist. "Obama qualifies many times over to be called the first Indian American president for everything he did."
Obama appointed the first Indian American as US ambassador to India, Rich Verma; the first Indian American judge on circuit court, Sri Srinivasan; first Indian American as surgeon general, Vivek Murthy; and the first US aid agency chief Raj Shah.
And Vanita Gupta was named head of the civil rights division at the department of justice, enforcing the federal laws prohibiting discrimination on the basis of race, colour, gender, an issue that was of enormous importance for Obama.
The former president also toyed with the possibility of sending Srinivasan to the Supreme Court, which would have been truly history not only for Indian Americans but the larger cohort of Asian Americans, who have yet to get a berth in the top court.
According to some in the community who were counting, there were 18 Indian Americans working in the White House in senior and junior positions at one point, and many others in federal agencies such as commerce, defence, treasury and others.
Nishith Acharya, who served as senior adviser to the secretary of commerce and considered it a "tremendous honour" to work for Obama, said, "I don't think it's surprising that President Obama had so many senior Indian Americans."
There are just more Indian Americans, according to him, "working on issues of public policy around the country, and so many of us strive to serve our country". There is just a lot more Indian Americans available now than before.
President Obama has never spoken publicly about why he appointed so many Indian Americans and, just to be clear, he may not even have chosen them for their ethnicity alone, although diversity was important for him.
Vikrum Dave Aiyer, who started in the Obama White House and ended as chief of staff in the department of commerce, said diversity was important to Obama — "just look at the number of South Asians, members of the Lesbian, Gay, Bisexual and Transgender community and the disabled appointed by him."
There was a definitive push from the Obama administration to get as diverse as possible, and Indian Americans were up there willing to be considered, be counted and be selected. And, what probably helped their case was that they are good.
Shailesh Kumar, who worked on Wall Street before joining the US treasury department where he went on to head the India desk, agreed. "More young Indian Americans are willing to do public service now than before and are seeking out jobs in the government," he said, adding, "and there is pull factor from both parties who are looking to cultivate the community."
Though small in numbers, Indian Americans are the country's wealthiest as an ethnic group. The median income of households headed by an Indian was $103,000 in 2013, compared to $48,000 for other immigrants and $53,000 for households of native-born Americans.
They tend to also be more educated. In 2013, 76% of Indian immigrants (aged 25 and over) had a bachelor's degree or higher, compared to 28% of all immigrants over 25, and 30% of native-born adults.
Politics and public service have been a relatively new career path for them, starting, noticeably, in the Clinton administration and increasingly ever so incrementally under President George W Bush — Neel Kashkari, a US treasury official, among them.
Kashkari played a leading role with then US treasury Hank Paulson in the first efforts to battle the 2008 recession by rescuing financial institutions and automobile companies with government-funded bailout programmes.
Ashley Tellis, as senior adviser to the secretary of state in the Bush administration, and Anish Goel, who was part of the White House, had worked closely and significantly in the signing of the civil nuclear deal that ended India's nuclear isolation.
And then came Obama, who opened the floodgates.
Neera Tanden was named a senior advisor in department of health to help pass the president's signature health care legislation, Vivek Kundra was the chief information technology officer and Aneesh Chopra chief technology officer.
Why Indian Americans? "It could have started with him having an Indian roommate in college," said M R Rangaswami, a Silicon Valley entrepreneur who runs Indiaspora, an initiative to build the Indian American community.
He was referring to Vinai Thummalapally, who went to Occidental College in Los Angeles, as did Obama, and the two spent a summer as roommates. The former president appointed Thummalapally as ambassador to Belize in 2009.
Close