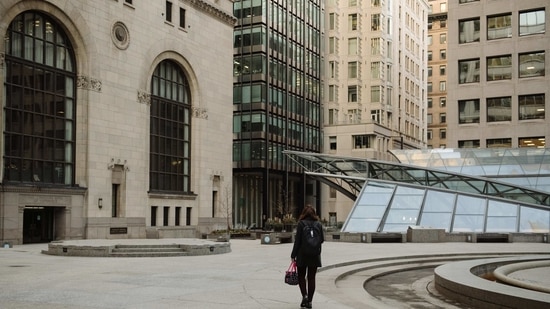 Canada's Ontario to be put under lockdown for 28 days to tackle Covid-19 spread
The move to counter the spread of Covid-19 in Canada's most populous province, which includes Toronto and the capital city of Ottawa, will take effect on Saturday
Bloomberg |
UPDATED ON APR 01, 2021 03:34 PM IST
The Canadian province of Ontario will return to a lockdown on Saturday, widening restrictions on stores, gyms, restaurants and hair salons for 28 days in an effort to get Covid-19 under control, CBC News reported, citing multiple sources.
The new rules to be announced by Ontario Premier Doug Ford on Thursday are intended to counter coronavirus's spread in Canada's most populous province, which includes the capital city of Ottawa, CBC said. The restrictions would not be as tight as the province-wide lockdown that was imposed in December, the sources told CBC.Some regions, including the city of Toronto, are already operating under similar rules; Ford's move would extend them to the entire province of 14.7 million people.
Ontario joins a growing number of locations, including France and Italy, that are returning to strict limits on social interactions in an effort to slow the latest surge of the virus. While more vaccines are being made to interrupt the transmission of the pathogen, not every area has equal access. Novel variants are hastening the spread, and case rates are rising in many regions.
Ontario added 2,333 new cases of Covid-19 on March 30, bringing its total case count to 349,903, according to Public Health Ontario. More than 17,000 residents have been hospitalized because of the disease, and 7,366 have died from it.
The province, which imposed strict measures in December including temporarily closing schools, had begun to loosen in recent weeks. But cases resumed their rise as the novel variants of the virus spread.The biggest hot spot is Toronto, the country's financial capital. More than half of the cases reported on Wednesday were in Toronto and Peel, a suburban region just west of the city. New daily cases in the province have more than doubled since the first week of March.Canada's slow vaccine progess is compounding the problem: less than 2% of the population is fully vaccinated, as the government has had difficulty importing enough shots and the country has little vaccine manufacturing capacity of its own. While a number of U.S. states have now made the vaccine widely available to the adult population, Toronto's city-run clinics are still focusing on getting the vaccine to residents 70 and older, in addition to health care staff and other categories of essential workers.
Close