China and India focused on creating partnership, won't play small games: Former Nepal PM Prachanda
Sep 09, 2018 09:04 PM IST
Former Nepal prime minister Prachanda during his visit to India met Prime Minister Narendra Modi, external affairs minister Sushma Swaraj, home minister Rajnath Singh and former prime minister and Congress leader Manmohan Singh.
Nepal's former Prime Minister and chairperson of the recently-merged Communist Party of Nepal, Pushpa Kamal Dahal 'Prachanda', spent four days in Delhi, meeting the entire Indian political leadership. Before returning to Nepal on Sunday, he spoke to Prashant Jha on Nepal's internal politics and Nepal-India-China triangular relationship. Edited excerpts: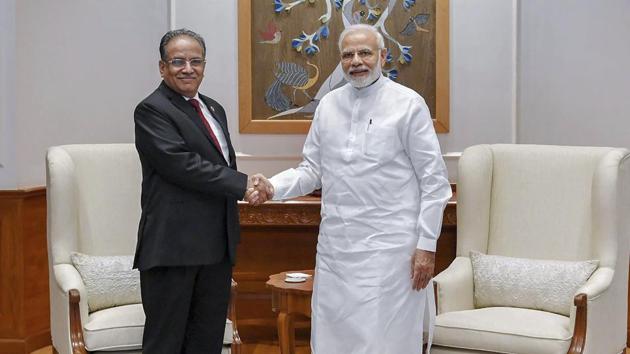 What has been your main message to the Indian leadership during the visit?
My main message was that after a long period of ups and downs, an environment of stability has been created in Nepal, an environment where we can take forward economic development. I wanted to explore ways where India can help us, and I believe I have succeeded in that mission.
You met PM Narendra Modi on Saturday. How was it?
I have come here earlier as a Maoist leader and as Prime Minister. This time, I am the chairperson of the unified (communist) party. But I saw no difference. In fact, I am not the PM now but I was deeply touched with the kind of respect and honour he (Modi) gave me. He came and received me and dropped me outside. When I was PM and Maoist chairman, I met him for 15-20 minutes, and it was often not one-on-one. This time, we spent over an hour and fifteen minutes together alone and had a candid conversation about different facets of Nepal-India ties, economic development, his recent visits to Nepal, and implementation of pacts. We reviewed the history of the Indian subcontinent. He mentioned how India and China together, till 400 years ago, had 50 percent of the share of the world economy. Now, we concluded we are entering a new era of trust, collaboration. We had a meaningful and qualitatively different kind of conversation this time.
PM Modi has visited Nepal four times in his term. How do you see Nepal-India ties in this period?
For 17 years, no Indian PM had come. And now, Modiji has come four times in his term. This is an important strategic development. When he came the first time, addressed parliament, directly greeted people on the roads, it had generated huge enthusiasm and trust. Later, due to the Madhes movement, the constitution, the blockade, that enthusiasm dipped and there was suspicion. But he has come twice after that. (Nepal) PM (KP) Oli has also come here. There is a positive environment again. Modiji himself has taken the initiative, come repeatedly to improve ties. People may have had apprehensions that Nepal has a communist government, and there is a BJP government here. How can they work? But the reality is both can work together well, and are actually strengthening relations.
The Communist Party of Nepal (Unified-Marxist-Leninist) and Maoists, which you led, united recently. There is a perception that China backed this unity. Is this true and has China's role in Nepali politics increased?
The first thing I will say is that the recent merger of the communist party is not the outcome of any pressure, advice, or preference of China. Right after the peace process started, there was discussion of unity between the UML and Maoists – and China had no role at all at that point. Three-four years ago, we again had a discussion on unity during the constitution-writing phase. This time, right before the elections, we committed to party unity. This unity platform got the mandate of the people. In my opinion, this is a home-grown process, based on our domestic considerations.
But at the same time, China has always wanted that all communists should come together. It is not just about unity between UML and me, but also Kiranji (Mohan Vaidya) and Biplab (Netra Bikram Chand). Their desire that all communists come together existed earlier, and persists even now. I don't think they feel just the two of us coming together is enough. But to say that it happened because of them is not correct. (Kiran and Biplab are radical left leaders in Nepal).
Politics in Nepal, in the past, often revolved around pro-India or pro-China cards. The primary driver of this was the monarchy and the feudal forces. Their culture and ideology was showing oneself as pro-India sometimes, pro-China at other times, and gaining from it. Now we have a federal democratic republic, we have an inclusive democracy, we had a unique peace process. And in all of this, India has had a unique role. At the peak of the insurgency, I had said that we are a political party, we don't want violence to continue, and if Nepali people are given real democratic rights, we want to come into the peace process. As chairman of the Maoist party, I wrote a letter to the then Indian PM Atal Bihari Vajpayee that if India facilitates this process, then an environment of peace can be created. If you go to the roots of the peace process, it goes back to Vajpayee. It was not possible for him to reply directly. But there was a positive response in a concrete way, in a manner I understood. Then Congress, under Manmohan Singh, also supported it. And it has continued. No one can overlook this or negate this fact of Indian role.
But in the current context, connectivity is a key issue – air, road, rail, communication connectivity. So it is a part of a natural process to enhance land and rail links with China. There is also a sense in Nepal that we are land-locked, and it would be good to get land-linked. So it is correct that Chinese activities have increased. But you cannot compare it with India. India is still the key actor in all economic activities.
We also have to understand that China will not, at the cost of provoking India, either support Nepal or provoke Nepal. I have gone repeatedly as PM, as Maoist chairman, to China, and I am going again soon. No leader has ever told me that that you should not have good ties with India or said anything negative. They have always said you have to work with India. You also have to see India-China ties have deepened. Modiji has gone to China. Xi Jinping has come here. From what I understand, Modiji and Xi Jinping have had a very in-depth, strategic dialogue. They want to improve ties. I don't think China and India will play small games, when both of them are so focused on creating a partnership for an Asian century, when they are such big markets, when they are rising in global stature.
But is there an organised effort in Nepal, by this government in particular, to reduce dependence and engagement with India and deepen the engagement and built a strategic relationship with China? This also ties in with what is seen as a nationalist-or an ultra-nationalist platform of the communist party.
What Nepal and Nepali leaders may think is one factor. But what Indian and Chinese leaders think is a different factor. There is often confusion about this. Someone in Nepal may want this –reduce Indian role, increase Chinese role. But is that how India and China think? I don't think so. I don't think there is any organised effort of this sort in Nepal either.
Turning to Nepali politics, you carried the legacy of a historic Maoist movement. Why did you leave it and merge with another communist party?
There are two parts to this. I have not left the legacy of the movement, minimized its importance. You can see the party document and constitution. The role and contribution of the People's War in establishing a federal democratic republic is recognised. Both chairmen – K P Oli and me – have signed on it. It is not the case that we left everything, and UML left nothing. Views of both were incorporated to create a new party. The question is how it will move forward. We have some understandings and agreements. We have a roadmap to move forward in a particular way till the convention which has to happen in two years. It will be a unity convention, not done through the exercise of majority and minority, but through consensus and understanding.
The second part is why did I do it? Many people say things were fine. I was the PM for a second time with (Nepali) Congress' support. Why was this done suddenly? I looked at two factors. One was the electoral situation. When I spoke to the Congress during local elections (in mid-2017), I saw that Congress felt it was much bigger. It is bigger – but it felt that it was much bigger than it is. We thought we could do a 50-50 partnership; they did not want to give us more than 15-20 percent. This is the core issue. The voter, on the other hand, was left-oriented. The UML then offered us 40 percent. This happens in parliamentary politics and during elections. The second thing was the nation's political history of the last 70 years. I was worried - would we again have a coalition, instability, anarchy? So both to ensure my own electoral relevance, and for national stability, I did the left alliance with the aim of unity.
What is the specific understanding? Has Oli committed that he would give you either PM, or party chair, or both, in two years?
The spirit of the understanding is one of those two positions.
And if he doesn't?
We will see then. Right now, we will move with full sincerity. I am moving forward with that. I told Indian leaders that too.
Within Nepal, there is an apprehension that your government and party – which is very strong – may move towards an undemocratic path. There have been instances of clamping down on civil liberties. When you were PM first, people feared you would do 'state capture'. But is there a real 'state capture' happening now?
I don't think so. We have all made this constitution, and are committed to a democratic system, rule of law, free press, human rights. This government is formed under this constitution. It has also been elected through a democratic process of elections. This party also knows that in today's world situation, the old kind of communist regime can neither work nor would it be right. There is no possibility of authoritarianism.
"Exciting news! Hindustan Times is now on WhatsApp Channels
Subscribe today by clicking the link and stay updated with the latest news!"
Click here!
Get Latest
World News
along with
Latest News
from
India
at Hindustan Times.