China's Covid protests: Blank sheets are latest symbol, students join agitation | WATCH
Nov 27, 2022 03:41 PM IST
Anti-Covid protests in China: Images and videos circulated online showed students at universities in Nanjing and Beijing holding up blank sheets of paper as they took part in a silent protest to evade censorship or arrest.
Blank sheets of paper have become a symbol of protest in China where thousands - including university students in the major cities of Beijing and Shanghai - are dissenting against stringent Covid-19 lockdown rules. China has reported a worrying surge in cases over the past few days that includes a 24-hour record of nearly 40,000 on Saturday - prompting authorities to impose strict restrictions in line with the country's contentious zero-Covid policy.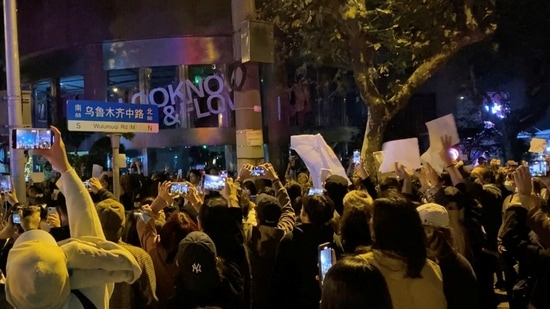 Images and videos circulating online show students in Nanjing and Beijing holding up blank sheets of paper as they take part in a 'silent protest' to evade censorship or arrest.
In other videos, dozens stand at the university's front steps with blank sheets of paper that illuminated against the night sky with the help of flashlights.
The widespread and public shows of dissent erupted after an apartment fire on Thursday in the city of Urumqi - the capital of the northwest Xinjiang region - killed 10 people. Residents of that city had been locked down for nearly 100 days in the past, fueling speculation that similarly stringent measures this time may have stopped escape attempts of those who died.
A Beijing resident who joined his neighbours during Saturday's protests told news agency Reuters he was saddened by news of disasters like the Urumqi apartment fire. He also referred to reports from January a pregnant woman who miscarried because she was denied entry to a hospital in Xian and a bus that crashed in Guizhou while quarantined people.
"Any of that could have happened to me or my wife," he told Reuters.
On Saturday, Shanghai residents gathered for a candlelight vigil and held up blank sheets of paper, witnesses told news agency Reuters.
In a significant political development that vigil soon turned into a vociferous protest - and the blank sheets became a symbol - with people shouting slogans like 'down with Xi Jinping' and 'lift lockdown for Urumqi... lift lockdown for Xinjiang, lift lockdown for all of China'.
In a video seen by news agency Reuters a man can be seen chiding the crowd; "One day you'll pay for everything you did today," he says. "The state will also have to pay the price for what it has done," people in the crowd shout back.
Chinese authorities have reportedly moved swiftly to curb online discussion of these agitations. Phrases related to the protests were scrubbed from the Twitter-like micro-blogging platform Weibo almost immediately after footage of the rallies emerged.
Widespread in-person protests are rare in China, where room for dissent has been all but eliminated under president Xi Jinping, forcing citizens mostly to vent on social media where they play cat-and-mouse games with censors.
The protests were reminiscent of the 2020 Hong Kong agitation where activists also raised blank sheets of white paper instead of shouting slogans banned under the city's national security law, imposed after violent protests the previous year. Similar scenes were also witnessed in Moscow this year where demonstrators used blank sheets to protest Russia's war with Ukraine.