China races to contain Covid outbreaks in tourism hubs Tibet, Hainan
Updated on Aug 09, 2022 05:56 PM IST
After living most of the pandemic virtually virus-free, the mountainous region of Tibet reported an outbreak that rapidly grew from four to 22 cases on Monday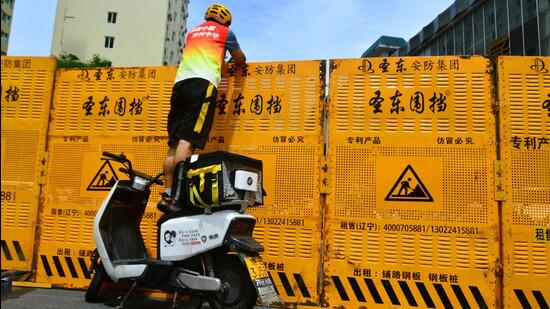 Chinese authorities on Tuesday closed down parts of Tibet and launched mass testing in the capital after a rare outbreak of Covid-19 was reported in the remote region, even as the local government scrambles to contain Covid clusters in Hainan province's tourism hotspot, where thousands of tourists remain stranded.
Lhasa, the capital city of southwest China's Tibet Autonomous Region (TAR), on Sunday reported 18 positive Covid-19 test results after it conducted nucleic acid testing among key population groups, local authorities told Chinese state media.
"Lhasa has reported 18 positive cases since Sunday and started to implement 'static management' (lockdown) in the medium and high-risk regions. Four cases were found earlier in Ngari prefecture's Burang county. The 22 cases are all related to Tibet's Shigatse city, home to about 800,000 people," the state-run tabloid, Global Times reported on Tuesday.
Parts of Tibet began mass Covid-19 testing on Tuesday, including its Lhasa and Shigatse. Authorities also suspended large events, shut entertainment and religious venues, and closed some tourist sites, including the famous Potala and Norbulingka Palaces, both world heritage sites.
"Cities of Lhasa and Shigatse are currently carrying out the first round of mass testing and will conduct the second round of testing on Wednesday. Counties of Burang, Gar and Zanda in Ngari Prefecture are undergoing the third round of testing," the GT report said.
Until the current outbreak, TAR, which is home to some three million people, had reported only one Covid-19 case in January, 2020, weeks after the virus was first detected in the central Chinese city of Wuhan.
Meanwhile, the local government of Hainan province was scrambling to make arrangements for the return of tourists trapped in the capital, Sanya, following the worst Covid-19 outbreak in the province.
Zhou Changqiang, head of the Hainan Provincial Health Commission said the government was considering a plan to let tourists in areas that have not been affected by the epidemic leave the island with two nucleic acid negative certificates within 48 hours.
"While those in low-risk areas are expected to start their return journey with three nucleic acid negative certificates within 72 hours and a screening to make sure they don't have any symptoms of being infected," Zhou said.
China reported 828 new domestically transmitted cases across more than a dozen provinces and regions for August 8, with over half of them in Hainan, data from the national health commission (NHC) said on Tuesday.
Both TAR and Hainan, both heavily dependent on tourism, have remained relatively free from Covid-19 outbreaks since the pandemic began.
Given China's strict "zero Covid" policy, both provinces would now have to negotiate tough entry and exit measures besides quarantine measures, which are expected to dent the tourism industry.
Personalise your news feed. Follow trending topics