China sees unprecedented protests against Covid curbs as cases rise
Sutirtho Patranobis I Edited by Amit Chanda
Nov 27, 2022 06:04 PM IST
Since Friday, people have held protests across China, an indication of simmering anger against excessive lockdown measures against Covid-19 outbreaks
Beijing: A blank sheet of white paper has become the unlikely symbol of defiance against the Chinese government's controversial anti-Covid curbs with protests spreading to cities far and wide including to capital Beijing and the financial hub of Shanghai.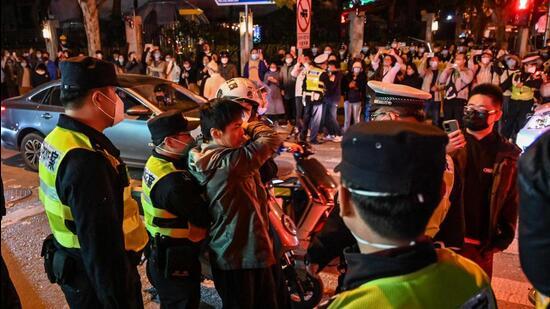 The unprecedented outpouring of anger was partly sparked by a deadly fire that claimed the lives of at least 10 persons allegedly locked up in a Covid-controlled high-rise in northwest China's Urumqi city on Saturday.
Sporadic protests on local issues are not uncommon in China but demonstrations reported from various parts of the country, focused on one issue are exceptionally rare.
Since Friday, people have held protests across China, an indication of simmering anger against excessive lockdown measures against Covid-19 outbreaks.
Widespread protests against the "zero Covid" policy were also reported from university campuses across China, most notably from Beijing's elite Tsinghua university and the city of Nanjing's Communication university.
At both places large numbers of students stepped out of their classes and dormitories, holding up sheets of white paper, mourning those who died in the fire and, in some cases, demanding democracy and rule of law.
Many students quietly held up blank, white sheets of paper in protest.
At the Beijing Film Academy, students had displayed surgical masks with splashes of red paint on them, a photo on Twitter showed.
An unverified list comprising the names of universities circulating on Twitter said protests were reported from at least 50 campuses from across the country. The list included universities from the city of Tianjin, located close to Beijing, and Harbin university in northeast China.
Protests against China's hard Covid-19 curbs spread to more cities, including in the financial hub Shanghai since late Saturday where residents poured out on to streets, demanding curbs be lifted.
Residents in Shanghai, China's most populous city, gathered quietly on Saturday night at the city's Wulumuqi Road - which is named after Urumqi, capital of Xinjiang - for a candlelight vigil.
Vigil for Urumqi fire victims
The vigil gradually turned into a protest meet by the early hours of Sunday as more people joined, demanding the complete opening up of locked down areas of the city, and justice for the Urumqi victims. Residents lit lamps on the sidewalk in memory of the Urumqi fire victims.
Reports said the crowds demanded the resignation of President Xi Jinping.
"People could be heard shouting demands for China's leader Xi Jinping and the Communist Party to "step down". The crowd also chanted, "Don't want Covid test, want freedom!" and "Don't want dictatorship, want democracy," CNN said in a report from the city.
Shanghai went through a controversial and bruising two-month lockdown earlier this year and parts of the mega city are often put under targeted lockdowns if Covid cases surface again.
On China's all-purpose WeChat app, users wrote chain letters opposing Covid curbs and demanding the lifting of community lockdowns.
Many posted photos of a blank white paper as a sign of solidarity with protesters who had taken to the streets in many cities.
Many WeChat users on Sunday posted photographs from the Argentina-Mexico World Cup match, mentioning the number of people who watched the match at Lusail stadium in Qatar, over 88,000, a record. It was a subtle hint to make the point about lockdowns, restrictions in China.
Draconian lockdown measures
In Beijing, residents of some communities pushed back against local authorities imposing restrictions in and around their complexes, arguing that sealing areas run contrary to the government's announcements earlier this month for more targeted controls.
Footage on both Twitter and Chinese social media showed groups of residents from apartment complexes arguing with neighbourhood management authorities, usually Communist party members, not to seal or restrict buildings.
The government is yet to issue any statement on the protests and official Chinese media has blanked out any mention of the demonstrations.
An expert on China said Beijing has missed maintaining a balance between Covid control and economic growth, leading to citizens' anger.
"Basically, what the (Chinese) leadership wants, a fine balance between growth and Covid control, is beyond the capacity of grassroots level enforcers. Instead, they are using draconian measures which invite popular anger," Victor Shih, Associate Professor, School of Global Policy and Strategy, UC San Diego, expert on Chinese elite politics, said.
There is apprehension that the ruling Communist Party of China could respond with hard measures against the protesters.
"In the short term, the government walks a tight rope between too little repression, which may lead to more protests, and too much, which triggers backlash protests. Unfortunately, with the pervasive surveillance in China, the government will be able to arrest and punish the ring leaders after things have cooled," Shih added.
"However, with Covid policies still unclear, popular anger may persist for a long period of time, something the regime has not had to deal with for decades," Shih said.
China's Covid caseload goes up
China on Sunday reported its fourth straight daily record of 39,791 new Covid-19 infections for Saturday, of which 3,709 were symptomatic and 36,082 were asymptomatic, the national health commission said in its daily bulletin.
Cases rose sharply compared to Friday when China reported 35,183 new cases – 3,474 symptomatic and 31,709 asymptomatic infections.
One death was reported from the southwestern city of Chongqing.
Beijing's Covid-19 caseload went up sharply as well for Saturday.
The city reported 4,307 new local infections on Sunday for Saturday including 3,560 people without symptoms.
The number of new local confirmed Covid-19 cases and new cases outside quarantine facilities in Beijing is growing rapidly, and the growth rate has not eased, affecting streets and townships, Xu Hejian, spokesperson of the Beijing Municipal Government, said on Sunday, adding that the "…situation of epidemic prevention and control in the capital has become more severe".
The capital has stopped short of imposing a citywide lockdown, but entire residential blocks are being sealed off if cases are detected, even in the neighourhood.