Why China will gain from Trump's pullout from Trans-Pacific Partnership
Updated on Nov 22, 2016 08:57 PM IST
President-elect Donald Trump has announced he will deep-six the Trans-Pacific Partnership on "day one" in office. While no surprise, it will nonetheless send ripples across the Asia-Pacific.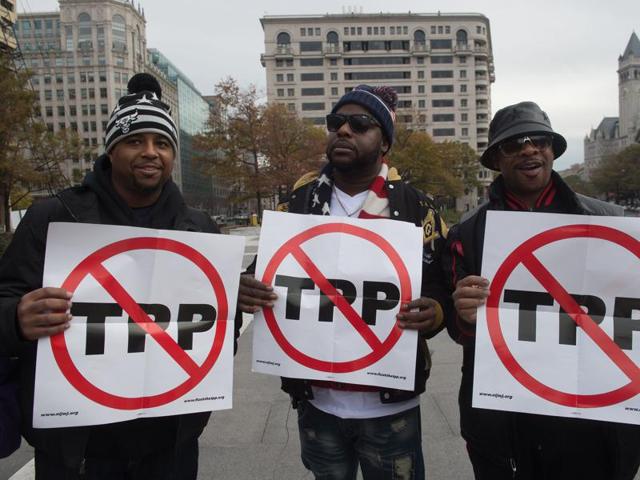 Hindustan Times |
, New Delhi
Pramit Pal Chaudhuri
President-elect Donald Trump has announced he will deep-six the Trans-Pacific Partnership on "day one" in office. While no surprise, it will nonetheless send ripples across the Asia-Pacific.
While ostensibly a mega-free trade agreement, the TPP was really a US attempt to economically constrain China. The question Asian capitals will ask: Does Trump have alternate instruments to deter an assertive Beijing?
The TPP had few friends in an Indian government generally allergic to trade pacts. But New Delhi should be concerned. With the TPP's demise, global trade leadership could by default fall into Beijing's lap.
The TPP was created because, as outgoing President Barack Obama had said, "we can't let countries like China write the rules of the global economy".
As most countries who signed up for the TPP already had low tariffs, the real point of it was to promote service trade. Its primary focus was on harmonising rules and regulations among members. It also sought to limit state-ownership of firms and bring in tighter labour and environmental standards.
Much of this was about creating standards that would force China, when it decided to join TPP, to go down a certain economic path. The TPP would be an economic carrot that would persuade the Communist Party to make China's economy more like rules-based, market-driven economies such as the US or India.
Economic gain was a minor factor in the US decision: If the TPP goes through it would add a miniscule 0.15% GDP growth to the US by 2032. The TPP was a trans-Pacific geopolitical partnership.
India
The TPP was widely criticised in New Delhi because it required changes in so many domestic regulatory areas, something strongly opposed by a sovereignty-conscious India. But India has a reputation for being a decade behind the rest of the world when it comes to trade policy. While investment friendly for the most part, trade policy is one area where the Narendra Modi government has regressed to an even more protectionist stance.
While the external affairs ministry understood the agreement's geopolitical underpinning, it ran into opposition from a commerce ministry that could not look beyond tariff lines.
The TPP core members deliberately did not invite or even consult with New Delhi when they began negotiating the trade agreement – they knew India would object to the very principles of the pact. In any case, according to the WTO's 2014 figures, India represents 1.7% of world trade – less than Singapore or Hong Kong – so its being a member was seen as irrelevant.
India's commerce ministry will breathe a sigh of relief when the TPP is shelved by Trump in January. New Delhi had not been party to the rules making process. A functional TPP would not have depressed Indian goods trade by more than a few percentage points. But trade analysts like Pradeep Mehta say it would have given a huge advantage to Southeast Asian nations competing against India in the IT services area and led to a diversion of foreign direct investment away from India towards TPP signatories.
China
However, India should be concerned at the geopolitical space that the TPP's demise will give China. Beijing can be expected to become more aggressive about promoting an alternative trade grouping but one whose agenda will be dominated by China.
Some Indian officials put much store in the Regional Comprehensive Economic Partnership, centred round the Southeast Asian nations, as a TPP substitute. But the RCEP's ambitions are minimal.
"The eventual RCEP is likely to mark only cosmetic improvements over existing agreements," argues Amitendu Palit, trade expert at the Institute of South Asian Studies, National University of Singapore.
Australian and US officials say they expect Beijing to now quickly try and bring the RCEP negotiations to a close. President Xi Jinping has already begun hard-selling a Beijing-centred 21-member Free Trade Association of the Asia-Pacific (FTAAP) as the TTP substitute. India will be marginal to this as well, as a prerequisite to FTAAP membership is being part of the Asia-Pacific Economic Cooperation forum – which India has so far been unable to join.
There is evidence that the new Trump administration plans to revert to a more hard-nosed policy of building warships and deploying warplanes to contain Chinese power. This will be the opposite of the Obama doctrine which preferred to downgrade military responses and use soft power to tame the dragon.
New Delhi may come to regret the passing of the TPP. The real alternative seems to be an Indo-Pacific on a hair trigger and an Asian trade order dictated by China, both of which sound much worse for Indian interests than a service-oriented free trade agreement.
Keep in mind, however, that the TPP is not yet dead. The other eleven members of the agreement will simply hold it in escrow – to get technical, it will be "a treaty not in effect" – and wait to see if Washington ever changes its mind.
Personalise your news feed. Follow trending topics