China unveils flagship nuclear tech to be used in Karachi atomic plants
The two reactors China is helping to build in Pakistan will cost around $10 billion and are expected to be completed within the decade.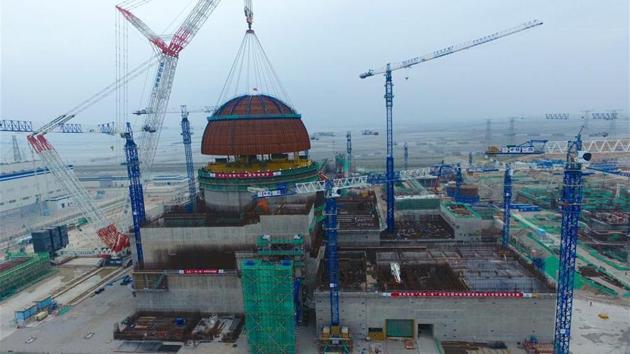 Updated on May 28, 2017 06:37 PM IST
Hindustan Times, Beijing | By Sutirtho Patranobis
China has successfully installed the "containment dome" of a demonstration nuclear project in eastern Fujian province that uses a third generation reactor which will also power two plants in the Pakistani port city of Karachi.
The project in Fujian, which uses the domestically developed Hualong One technology, serves as a prototype and proving ground facility.
The domestically developed third generation reactor, which has advanced technology and improvements developed in second generation reactors, will be used in the two plants China is building in Karachi.
"The country has actively promoted Hualong One at home and abroad. There are now four projects using Hualong One design under construction, including two reactors in Karachi, Pakistan," state-run Xinhua news agency reported.
Reports said the two reactors China is helping to build in Pakistan will cost around $10 billion and are expected to be completed within the decade.
Xinhua reported the hemispherical dome, weighing 340 tonnes and measuring 46.8 meters in diameter, was installed by crane on the No 5 unit of China National Nuclear Corporation (CNNC) in Fuqing City on Thursday evening.
"The dome will be used for protection against nuclear accidents under extreme conditions," Yu Peigen, deputy general manager of CNNC, was quoted as saying.
In December, Pakistan Prime Minister Nawaz Sharif inaugurated the Chashma-3 reactor, built with Chinese help, at a site 250 km southwest of Islamabad. The Chashma-1 and 2 were also built with Beijing's assistance.
Last year, China refuted a US think tank's report that said Beijing's nuclear cooperation with Islamabad contravened the principles of the Nuclear Suppliers Group (NSG).
"China has stated on many occasions that the cooperation between China and Pakistan in the civil nuclear energy sector is completely for peaceful purpose," the foreign ministry had said at the time.
The Hualong One brand is being positioned to attract foreign buyers. The state-owned company promoting the brand said last year it will be promoted as the Chinese nuclear power industry's "flagship brand".
The brand is now being aligned with China's Belt and Road Initiative (BRI) as one of the country's foremost brands to be promoted internationally.
"During the Belt and Road Forum for International Cooperation earlier this month, the China National Nuclear Corporation (CNNC) also signed a cooperation framework agreement with Argentina, a key emerging market for Chinese companies, which included using the Hualong One design for the country's fifth nuclear unit," Xinhua reported.
Hailing the successful installation of the "containment dome", Premier Li Keqiang stressed the importance of quality and safety in "China's first demonstration nuclear power project using Hualong One technology".
"Absolute safety" must be guaranteed in nuclear power construction, operation and management, said Li.
Close Story