Death toll in weeklong Syria airstrikes tops 500, including 127 children
The latest wave of Syrian bombings in Ghouta came after the UNSC delayed a vote on a resolution demanding a 30-day humanitarian cease-fire across Syria in hopes of closing a gap over the timing for a halt to fighting.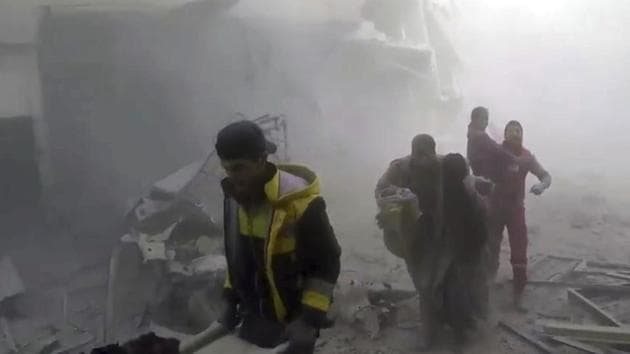 Updated on Feb 24, 2018 09:30 PM IST
Associated Press, Beirut | By Associated Press
A new wave of airstrikes and shelling on eastern suburbs of the Syrian capital Damascus left at least 22 people dead and dozens wounded Saturday, raising the death toll of a week of bombing in the area to 500, including scores of women and children.
The weeklong bombardment has overwhelmed rescuers and doctors at makeshift hospitals, many of which have also been bombed. Activists say that terrified residents have been hiding in underground shelters where dozens of people can be crammed into small places.
The latest wave of bombings came after the UN Security Council delayed a vote on a resolution demanding a 30-day humanitarian cease-fire across Syria in hopes of closing a gap over the timing for a halt to fighting. A vote was scheduled for later Saturday.
Russia's UN Ambassador Vassily Nebenzia has called an immediate cease-fire unrealistic, and in an apparent bid to get Russian support, sponsors Kuwait and Sweden amended the draft resolution to drop a demand that the cease-fire take effect 72 hours after the resolution's adoption.
Instead, the new text circulated Friday night "demands that all parties cease hostilities without delay." The latest draft resolution says a cease-fire must be followed immediately by access for humanitarian convoys and medical teams to evacuate the critically ill and wounded.
Russia has been a main backer of Syrian President Bashar Assad since the country's conflict began seven years ago. In 2015, Moscow joined the war on Assad's side tipping the balance of power in his favour.
Syrian opposition activists say Russian warplanes are taking part in bombarding Damascus' eastern suburbs, also known as eastern Ghouta, where many people are hiding in underground shelters with little food and medical supplies amid a tight government siege.
Syrian opposition activists said that government forces used phosphorous bombs in their attacks on the suburbs, but the claims could not be independently confirmed.
The Britain-based Syrian Observatory for Human Rights said airstrikes that hit several suburbs left 22 people dead in different areas, including 10 in the suburb of Douma.
The opposition's Syrian Civil Defense, also known as the White Helmets, said 23 people were killed.
The Observatory said that since the latest wave of bombardment began Sunday, 510 civilians, including 127 children and 75 women, have been killed in eastern Ghouta.
The White Helmets said it has documented the names of 420 people who have been killed since Sunday, adding that dozens more have still not been identified.
Syrian state media reported that rebels fired mortar shells on Damascus, Assad's seat of power, killing at least one person and wounding seven.
Close Story