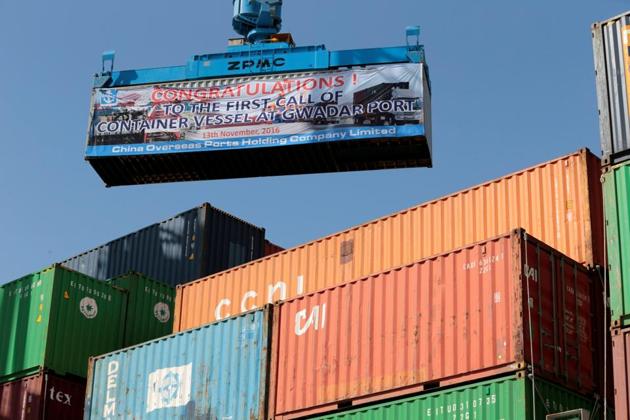 Economic corridor passes through Pakistan-controlled territory: China scholar
According to Wang Yiwei, the CPEC can help Pakistan "solve their problems and improve infrastructure", and China must help its "iron friend".
Hindustan Times, Beijing | By Sutirtho Patranobis
UPDATED ON MAY 11, 2017 03:19 PM IST
China backs Pakistan on the controversial economic corridor through Pakistan-occupied-Kashmir (PoK) despite India's concerns because most of its projects are in territory under Islamabad's "control" even if claimed by New Delhi, a top Chinese scholar said on Thursday.
The remarks indicated Beijing has long set aside New Delhi's serious "sovereignty" concerns over the China-Pakistan Economic Corridor (CPEC), a cluster of energy and infrastructure projects on a route that connects China's Kashgar city with Pakistan's Gwadar port.
This was despite problems with the project and requests from the Pakistan government to change CPEC's alignment, said Wang Yiwei, professor at the School of International Studies of Renmin University.
"In Kashmir, the CPEC projects mainly go though Pakistan controlled Kashmir region. This is what the Pakistani people tell us. So the Chinese government is also confused. These are the problems," Wang told journalists at an interaction organised by the All-China Journalists Association.
Wang's comments came days ahead of China's Belt and Road Forum on President Xi Jinping's ambitious Belt and Road Initiative, of which CPEC is part. The forum is expected to be attended by nearly 30 heads of state, including Pakistan Prime Minister Nawaz Sharif.
Despite the "confusion" and problems, Wang spelt out CPEC's importance to China and Pakistan.
"The CPEC, which is a flagship project, is of strategic importance, which can help Pakistan to solve their problems and improve infrastructure. So that their economy will take off and become a strong economy," he said.
"It is a great project and China and Pakistan are iron friends. We need to first and foremost help our iron friend."
Wang added: "We already have the Karakorum Highway. Seven hundred people were killed building it, it was very difficult to build."
He reiterated that CPEC is one of the "strategic projects" under the larger Belt and Road Initiative and it didn't really matter if there is no financial return in the short-term.
Some projects are strategic and long-term such as the CPEC, energy projects and building of ports in Pakistan. He said it was hard to make money from infrastructure projects but "once infrastructure is there, it will boost development", he said.
Wang said Chinese companies such as China Telecom, Huawei and Alipay were already in Pakistan to help build communication networks.
Wang said attention should be paid to India's concerns over CPEC but it is up to New Delhi and Islamabad to resolve the Kashmir issue.
"We must pay a lot of attention to the concerns of India about CPEC. We are now inviting India to take part in it. If we are ready to discuss and talk to India but maybe Pakistan is not willing to do it, as (they are saying) all projects are being built in Pakistan," he said.
"Of course, we should persuade Pakistani people to talk to Indians. Because of lack of mutual trust between Pakistan and India, it is also difficult for us, so I guess it is up to India and Pakistan, the two brothers, to make a joint consultation because CPEC has become a regional arrangement. The initiative will bring benefit to a lot of countries so there should be no worry and suspicion," he added.
Wang said there are problems such as governance and corruption in Pakistan.
"To be frank, (the Pakistan) government not well government. (There are) corruption problems as well. Prime Minister (Nawaz) Sharif says they want to change the alignment and design (of CPEC). We have to ensure that the design is well carried out. Otherwise, it will not bring benefits to China.
"We have reminded the Pakistani side through various channels that cost has increased because of change in alignment. We cannot change our main alignment."
Close