Ex-president Asif Zardari and son Bilawal to contest parliamentary elections
Updated on Dec 27, 2016 10:13 PM IST
Former Pakistan president Asif Ali Zardari and his son Bilawal plan to contest parliamentary elections as part of measures to put pressure on the government of Prime Minister Nawaz Sharif.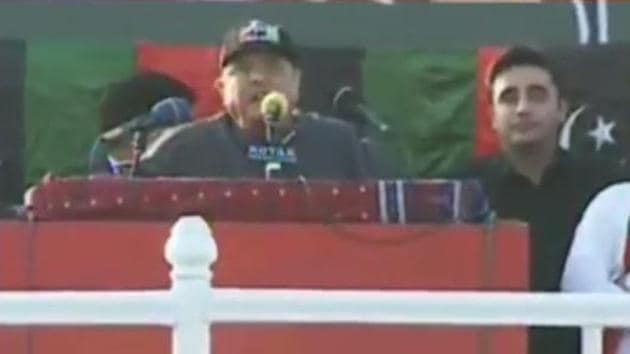 Hindustan Times |
, Islamabad
Imtiaz Ahmad
Days after returning to Pakistan from self-imposed exile, former president Asif Ali Zardari announced on Tuesday that he and his son Bilawal will soon contest elections to enter Parliament.
Addressing thousands of supporters at an event organised at Garhi Khuda Bakhsh in Sindh province to mark the death anniversary of his late wife, former premier Benazir Bhutto, Zardari said, "I want to share the good news I had promised to share – Bilawal and I will contest the election right now, (and sit) in this Parliament."
Since Bhutto was assassinated in December 2007, the Pakistan People's Party has organised a rally at the family's ancestral graveyard in Garhi Khuda Buksh every year to galvanise its workers.
Zardari said he will contest elections from his sister's seat in Nawabshah while Bilawal will contest from his mother's seat in Larkana.
Addressing Prime Minister Nawaz Sharif, Zardari said: "I am not coming to the Parliament to topple your government." He said his only intention is to teach the PML-N government a few lessons and to consult with Sharif on national issues.
It is believed Zardari returned to Pakistan after 18 months in self-imposed exile to lead a combined opposition against the government.
Zardari said the PPP had four demands for the government which have so far not been implemented. They are revival of Parliament's national security committee, admitting the bill submitted by the PPP in the National Assembly on revelations in the Panama Papers leaks about alleged corruption by members of Sharif's family, implementing resolutions passed at a multi-party conference on the China-Pakistan Economic Corridor and appointing a full-time foreign minister.
"If we look at it, the demands are quite valid and harmless but the idea is to put the Sharif government on the defensive," said political analyst Hasan Askari.
In his speech, Zardari also called Sharif a "Mughal badshah" and said the whole idea behind the exercise is to ensure the Sharif family is held accountable. Zardari also questioned the links between Sharif's PML-N party and banned groups.
Bilawal Bhutto Zardari, while addressing the gathering, attacked the government for its corruption and lack of transparency. He said he would challenge the status quo. "Beware, I am coming to Islamabad," he said.
Personalise your news feed. Follow trending topics