Future of ties will depend on Pakistan acting on terror: US official
The United States and Pakistan have agreed to take another shot at putting their ties back on the track during recent high-level meetings.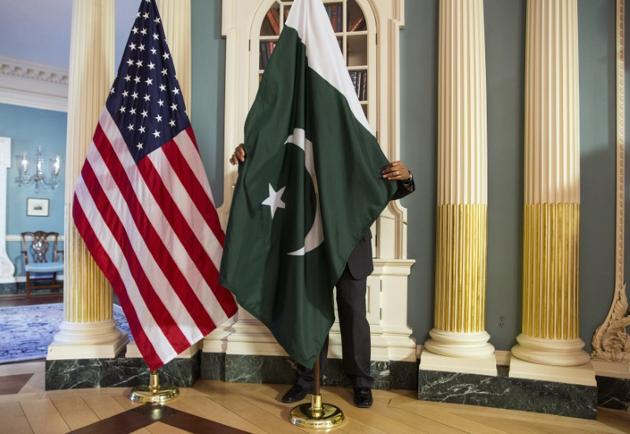 Updated on Oct 18, 2018 11:08 PM IST
Hindustan Times, Washington |
, Washington
Yashwant Raj
The US has said that a year after the launch of President Donald Trump's new South Asia policy, it has not seen decisive action by Pakistan against terrorists operating from its soil and that the future of bilateral ties is in the hands of Pakistani leaders.
"We have seen some action but we have not seen the decisive steps from Pakistan that could demonstrate commitment, ensuring their territory cannot be used by the Taliban, the Haqqani Network and other groups that were so violent and bring instability in the region," said Henry Ensher, deputy assistant secretary of state for South Asia.
Speaking at a symposium on US-Pakistan ties at Wilson Center on Wednesday, he added the "future course of our relationship, and indeed the trajectory of Pakistan's development rest in the hands of Pakistani leaders".
Pakistan's policy on terror, Ensher said, is key to its ties with India. The US encourages the two countries to talk, he said, but "the presence of terrorists and militants on Pakistani soil limits the potential for and the likely outcomes of any dialogue and we encourage Pakistan to address these issues".
Lashkar-e-Taiba founder Hafiz Saeed was released by Pakistan from house arrest last November and regularly addresses rallies and public meetings "with impunity", Ensher noted to illustrate his point. Saeed was seen at one of these public events with "a minister of the new government", he added.
In January, he said, Pakistan pledged to act against LeT fronts Jamaat-ud-Dawa (JuD) and Falah-e-Insaniyat Foundation (FIF), but "10 months later there is no evidence the government has taken over JuD and FIF operations or taken other measures to prevent those groups from operating".
It is clear the new Imran Khan government may have earned itself a reset of bilateral ties that had been in a downward spiral, but US expectations from Pakistan remain unchanged and the Trump administration will continue to press Islamabad to align itself with the South Asia strategy.
The US and Pakistan have agreed to take another shot at putting their ties back on the rails during recent meetings between secretary of state Mike Pompeo and Prime Minister Imran Khan and Pakistan Army chief Gen Qamar Bajwa in Islamabad and foreign minister Shah Mahmood Qureshi in Washington.
Ensher's 30-minute speech was encouraging in tone, urging Pakistan to live up to its potential. He said that "if Pakistan makes smart choices, the US is prepared to be its partner".
But the speech was unwavering in its message: Pakistan's contribution to the Afghan peace process and its counter-terror actions will be central to ties with the US.
Ensher reminded Pakistan of its commitments made to the Financial Action Task Force, a global watchdog that curbs terror financing and money laundering, in June following its inclusion in a watch list. "We expect Pakistan will uphold its commitment", to FATF, he said. The US had taken the lead on adding Pakistan to the grey list.
Close Story