How Nancy Pelosi's Taiwan visit rocked Asia
Updated on Aug 10, 2022 04:51 PM IST
The effects of US House Speaker Nancy Pelosi's Asia tour are still rippling across the region.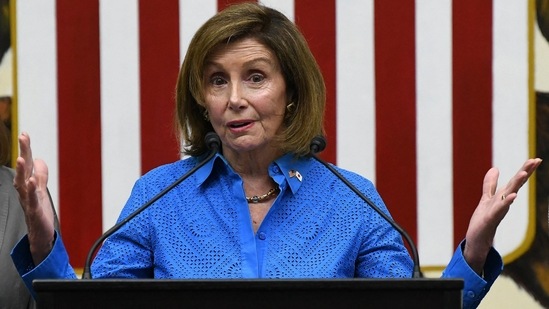 United States (US) House Speaker Nancy Pelosi's Asia tour, which won bipartisan support at home and among the world's democracies, has escalated tensions with not just one, but two, regional rivals. And its effects are still rippling across the region.
Pelosi last week led a congressional delegation to Taiwan, in addition to Singapore, Malaysia, South Korea, and Japan, despite weeks of warnings from Beijing of repercussions if the top leader in the US Congress landed in Taiwan.
When she landed in Taiwan on Tuesday, Pelosi became the highest-ranking elected American official to visit Taiwan since then-Speaker Newt Gingrich in 1997. A day later, during her stop in South Korea, she became the highest-ranking US official to visit the Joint Security Area (JSA) between the two Koreas since former president Donald Trump met North Korean leader Kim Jong-un there in 2019.
Beijing sees official American contact with Taiwan as an encouragement to make the island's decades-old de facto independence permanent, a step US leaders say they don't support. It has responded to the visit by announcing a series of days-long military exercises surrounding Taiwan and issuing a stream of invectives aimed at the US and Taiwan governments, accusing them of colluding to undermine Chinese sovereignty and national security.
But China wasn't the only country enraged: North Korea on Saturday slammed Pelosi over her visit to the heavily fortified Demilitarized Zone, calling her the "worst destroyer of international peace". Pyongyang, which is a close ally of Beijing, also accused the US of being "the root cause of harassed peace and security in the region," and said it supported Beijing in the confrontation surrounding Pelosi's visit.
Eye on midterms
The visit by Pelosi, who is third in the line of succession to the presidency and a long-time critic of China, came amid worsening ties between Washington and Beijing, and ahead of the fast-approaching US midterm elections.
The November midterms, which will decide which party controls Congress for the last two years of Biden's first term, are shaping up as rough for Democrats who even now only control the legislature by a few votes.
Blamed by voters for soaring inflation — at a four-decade high — and widespread pessimism in the messy aftermath of the Covid-19 pandemic, Democrats are forecast to lose at least the House of Representatives and maybe the Senate. This would likely make President Joe Biden a lame duck, turning Washington into an even uglier political battlefield than it is today.
A tough stance on China is one thing that brings together a country divided on everything from mask-wearing to guns to abortion, suggesting that Pelosi's trip may have been driven by electoral arithmetic as well as an eye towards her legacy.
At the age of 82, she seems closer to hanging up the speaker's gavel and retiring. Pelosi has made criticism of China and support for Taiwan a key focus in her more than three decades in Congress, famously unveiling a banner commemorating victims of the Chinese military's bloody 1989 crackdown on pro-democracy demonstrators in Beijing's Tiananmen Square during a visit to the site in 1991.
In remarks at a meeting with Tsai on Wednesday, she said, "Today the world faces a choice between democracy and autocracy."
"America's determination to preserve democracy, here in Taiwan and around the world, remains ironclad," Pelosi said. But critics say the trip is nothing short of ill-timed: It has certainly affected the status quo.
A sensitive time for Xi
Wary of a reaction from China, even the Biden administration discouraged (but did not prevent) Pelosi from visiting Taiwan. It has taken pains to stress to Beijing that the House Speaker is not a member of the executive branch and her visit represents no change in the US "one-China" policy.
That was little comfort for Beijing. Pelosi, who is second in line for the US presidency, was no ordinary visitor and was greeted almost like a head of State. Taiwan's skyline lit up with a message of welcome, and she met with the biggest names on the island, including its president, senior legislators, and prominent rights activists. Chinese officials were enraged.
"Pelosi's dangerous provocation is purely for personal political capital, which is an absolute ugly political farce," Chinese foreign ministry spokesperson Hua Chunying said after her departure.
The trip appears to have further muddled Washington's already complicated relationship with Beijing as the two sides wrest with differences over trade, the war in Ukraine, human rights, and more. The episode also comes at a time when Washington is working to ensure China does not provide material assistance to Russia's invasion of Ukraine.
It also comes at a sensitive time for Xi, China's most powerful leader since Mao Zedong.
Mao founded the People's Republic of China by winning a civil war in 1949, sending the nationalist Kuomintang government retreating to Taiwan, which has been self-governed ever since.
Bringing Taiwan into Beijing's embrace is the key piece of unfinished business that would cement Xi's stature alongside Mao's and justify his move in 2018 to abandon term limits.
Despite widespread frustration over a zero-Covid policy that has put the country into a third year of self-imposed isolation and battered the world's second-largest economy, Xi is expected to secure an unprecedented third five-year leadership term at a key Communist Party congress this year.
Domestically, Beijing must balance the outrage it whipped up over Pelosi's visit with the embarrassment of not preventing it, observers said.
State media played up the drills with videos and commentary extolling China's advanced military capabilities.
Former Singaporean diplomat Bilahari Kausikan said the hype is partly a face-saving effort for Xi, who cannot afford to look weak before the party congress.
"The hard and incontrovertible fact is that for all the bluster, China failed to deter the Pelosi visit. So the CCP has to put up a show in its response," he said.
North Korea talks
Following her trip to Taiwan and before the JSA visit, Pelosi discussed the "grave situation" and growing threat posed by the North's nuclear weapons programme with her South Korean counterpart, National Assembly Speaker Kim Jin-pyo.
The pair called for "strong and extended deterrence against North Korea", and vowed to support efforts by Washington and Seoul to achieve Pyongyang's de-nuclearisation.
North Korea on Saturday denounced Pelosi for both. On top of the deterrence talks, Pelosi "made her appearance even in the joint security area of Panmunjom, utterly betraying the vision of the hostile policy of the current US administration towards the DPRK," said Jo Yong Sam, an official at North Korea's foreign ministry, using the North's official name.
"The US is just adding fuel to the fire," Jo added in a statement carried by Pyongyang's official Korean Central News Agency.
The JSA is the only spot along the tense, 250-kilometre frontier where soldiers from North Korea and the US-led United Nations Command stand face to face.
"The US will have to pay dearly for all the sources of trouble spawned by her wherever she went."
The rebuke from the North comes about a week after Kim Jong Un said his country was "ready to mobilise" its nuclear deterrent in any future military conflict with the United States and Seoul.
North Korea has conducted a record-breaking blitz of weapons tests so far this year, including firing an intercontinental ballistic missile at full range for the first time since 2017.
Strategic tensions
Washington and Seoul officials have repeatedly warned that North Korea is preparing to carry out what would be its seventh nuclear test - a move that the United States warned would provoke a "swift and forceful" response, and Pelosi's visit has only heightened the possibility of such a confrontation soon.
In the case of China and Taiwan, though most experts don't believe a war is imminent, China may have edged a step closer to using force on Taiwan.
"These first actions in effect changed the status quo of Taiwan's security," said Li Mingjiang, an associate professor at the S Rajaratnam School of International Studies in Singapore.
"This gives China's military a new basis from which to push more boundaries in future exercises," he said.
For the Biden administration, the strategy places greater pressure on the US to craft a response that encourages China to pull back without escalating tensions further.
China's exercises also demonstrated the risk that any conflict over Taiwan could quickly escalate and shake global supply chains. Besides disrupting air traffic and shipping, the drills also covered waters claimed as exclusive economic zones by the Philippines and Japan, with missiles landing in an area claimed by Tokyo.
"If the US doesn't 'learn its lesson' and does more to challenge China's sovereignty, then I think we'll see more of these operations," said Bonnie Glaser, director of the Asia Program at the German Marshall Fund of the United States. "They may seek to enforce here a new status quo in the Taiwan Strait."
Enjoy unlimited digital access with HT Premium
Subscribe Now to continue reading
Topics
Personalise your news feed. Follow trending topics