Illegal Indians, student visas: The dark side of India-UK ties
Updated on Jul 16, 2017 07:16 AM IST
There is no accurate estimate of the overall number of illegal migrants, but a top UK government functionary revealed to Hindustan Times that Indians lead the list – more than 100,000.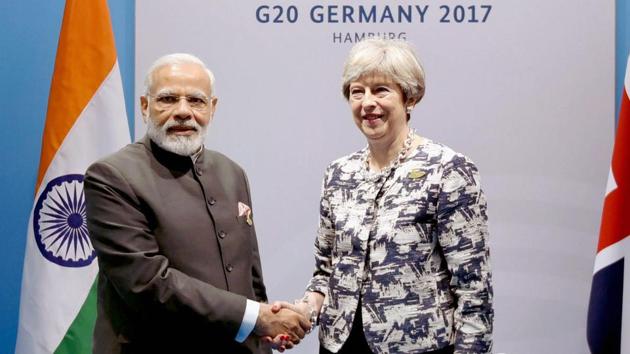 Take back your more than 100,000 illegal migrants and we'll improve the overall UK visa offer for India.
That's the subtle but clear message underlying the largely celebratory official discourse about the India-UK relationship. It is one area that is less mentioned, but scratch the surface and it's apparent that years of bending or abusing rules to move to Britain has led to a situation for both countries.
The relationship with a long history operates at many levels – once dubbed by the enigmatic politician Enoch Powell as a "shared hallucination" – but also includes issues of concern to both countries, such as student visas and a large number of Indians who either illegally entered the United Kingdom or overstayed their visas for years.
There is no accurate estimate of the overall number of illegal migrants, but a top UK government functionary revealed to Hindustan Times that Indians lead the list – more than 100,000. This is more than twice the number from the next country on the list: Nigeria.
The issue of returning illegal migrants to India is among the top items in bilateral talks. Another aspect of the issue is that the highest number of voluntary returns of illegal migrants is also to India – in 2016, it was 5,365 or 22% of total returns from the UK.
The number of voluntary returns is small, but as Prime Minister Theresa May said during her 2016 India visit, improving the overall UK visa offer is linked to stepping up the speed and volume of returns of Indian citizens who have no right to remain in the UK.
May told Hindustan Times before the June 8 election: "The Home Office is discussing various ways in which that process (of returns) can be improved. It is something I have said internationally, that I think where there are people who are in a country illegally, they should be returned, but it is a question of getting a smoother process so that people aren't spending quite so long waiting to be returned."
According to the Home Office, since the UK-India Returns Memorandum of Understanding was not renewed by the previous Indian government in 2011, cooperation on returns has lacked a formal framework. It believes the current process cannot deliver emergency travel documents in sufficient numbers or at sufficient speed.
However, the Indian view is that the nationality of an individual can only be established by an investigation conducted by Indian agencies, and not on the basis of information provided by UK authorities. The investigation involves police in India confirming the identity of those suspected to be illegal in the UK, which can take weeks, if not months.
On student visas, there has been a drop of more than 50% in the number of Indians coming to the UK for higher education, but officials attribute this to the closure of a large number of bogus colleges and universities in Britain in recent years, implying the drop reflected bogus Indian students and not genuine students.
The number of Indian students dropped from 39,090 in 2010-11 to 16,745 in 2015-16, resulting in a welter of protests from universities and stakeholders against the government's immigration policy. But officials insist genuine Indian students have not been affected.
"Earlier, there were 50% Indians going to universities, and 50% to further education colleges. We closed down a large number of bogus colleges that were selling certificates with no value, and allowing bogus students to come, work and live in the country," the UK government functionary said.
According to him, the number of genuine Indian students remains as it was – in fact, it showed some improvement in recent years. "All that has happened is that we have stopped our student visa being abused for non-education purposes, but the perception is that we are unwelcoming of international students," he rued.
First as home secretary and now as prime minister, May has consistently refused a demand to remove international students from overall migration figures, since most of them return home after completing studies. More visa curbs have added to the negative perception.
As UK ministers, officials and diplomats struggle to remove the negative perception about student visas in India and elsewhere, it is clear the issue will remain atop the agenda for some time, including that of returning illegal Indians.
In the settled Indian or Asian community, illegal migrants are pejoratively called 'faujis', who visit gurdwaras and charity organisations for free food. Many end up in cramped, unhygienic "beds in sheds" in gardens of houses, let out illegally.
In recent years, several councils and immigration officials have launched drives to clear what the tabloid press here calls "modern day shanty towns". Their illegal status prevents them from accessing bank accounts and driving licences, renting homes and getting other civic benefits, prompting many to return voluntarily than scrounge for existence in poverty here.
Personalise your news feed. Follow trending topics