India-Nepal panel recommends regulation of open border
Updated on Oct 09, 2017 10:33 PM IST
Members of the Eminent Persons Group on Nepal-India Relations agreed the open border should not be closed and some kind of identity card should be issued so that it would be easy to cross the boundary.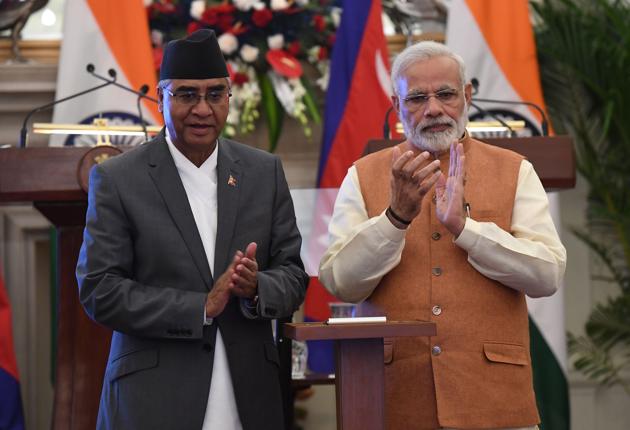 Hindustan Times, Kathmandu |
, Kathmandu
Anil Giri
A panel created to review and update the entire gamut of India-Nepal relations has agreed to recommend to both governments the need to regulate the open border between the two countries.
A meeting in Kathmandu of the Eminent Persons Group (EPG) on Nepal-India Relations, which was formed in 2016, decided to recommend that both sides should regulate the border to control illegal and criminal activities without causing any difficulties for the public.
The EPG is mandated to suggest a new course for India-Nepal ties to both governments which takes into account the changed regional and global context.
The boundary, which runs along three sides of Nepal, is 1,850 km long and open. Travellers from both sides do not need visas.
Bhagat Singh Kosiyari, Jayanta Prasad, Mahendra P Lama and B C Uprety are the Indian members of the EPG while Bhekh Bahadur Thapa, Surya Prasad Updhayay, Nilamber Acharya and Rajan Bhattarai are the members from Nepal. The panel is mandated to submit its report to both governments.
The panel will suggest a way out on several issues pertaining to bilateral ties, including existing treaties, the open border, security, socio-cultural relations, trade, commerce and transit.
During the fifth meeting of the EPG that concluded on Sunday, Uprety from the Indian side made a detailed presentation on the open border, its advantages and demerits and how both sides can regulate it.
"Both sides have agreed not to close the border but to instead issue some kind of identity card so that it would be easy to cross the border," Thapa, the coordinator of the panel from the Nepalese side, told a news conference here.
"The solution is not to close down the open border but to regulate it to make it more secure. The Indian side has already set up many border check posts to regulate the border, so it should be carried out on the Nepalese side of the border too."
Issues such as ensuring border security, resolving border disputes, and border management should be handled on the basis of international norms and practices, Thapa said.
Experts have pointed out that some travellers face discrimination. Those who travel by air need a valid passport or some other identity card issued by the government but no such provision is applicable to those who cross by land routes.
Consultations were going on about making it mandatory for those travelling by land routes to carry an identity card, Thapa said.
The Nepalese side is also pushing for a review and amendment of the Treaty of Peace and Friendship of 1950, which is considered the bedrock of India-Nepal ties. The panel reportedly agreed to recommend to both governments the scrapping of the treaty.