India rejects proposal to create Saarc Police
The proposed regional body would have looked into drugs, terrorism, narcotics and other criminal activities.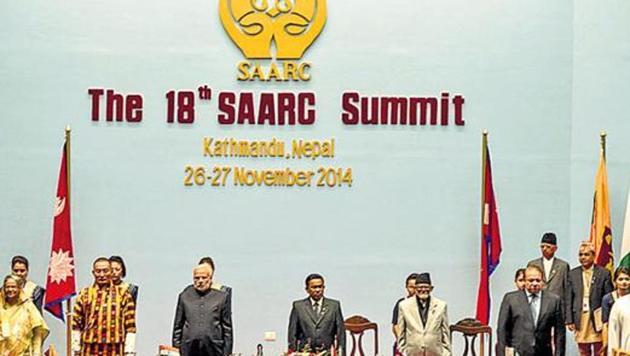 Updated on Apr 12, 2018 10:40 PM IST
Hindustan Times, Kathmandu |
Anil Giri
India has rejected Nepal's proposal to create the "Saarc Police", a regional body to counter terrorism, narcotics and human trafficking, cyber crimes and other criminal activities.
The proposal was floated during a meeting of senior police officers and officials responsible for countering drug and narcotics trafficking from the eight Saarc countries that concluded in Kathmandu on Wednesday.
A senior Nepalese official who participated in the meeting said India was not keen on setting up such a body at present and had called for "more consultations and deliberation" on the issue among Saarc members. The official added the Indian side also indicated the environment was "not favourable" for such a move.
In New Delhi, the external affairs ministry did not respond to a request for comment on the matter.
Nepal has been proposing the creation of such a body at the regional level to effectively deal with trans-national criminal activities, including narcotics trafficking and terrorism. The Indian side, according to Nepalese officials, proposed a phased approach for such a regional body.
With the situation currently not favourable for holding the stalled 19th Saarc Summit, some observers believe the proposal was also affected by the rivalry between India and Pakistan. Among other proposals at the meeting was the setting up of a regional secure database on criminal activities.
Nepal had proposed the merging of two Saarc desks focused on narcotics and terrorism stationed in Sri Lanka, and upgrading them to create the "Saarc Police". This, officials said, would involve giving the body more teeth and giving an expanded mandate to the proposed force.
Under the Saarc charter, any proposal opposed by even one member cannot move forward.
The Saarc process has been stalled since India pulled out of the 19th Saarc Summit that was to be held in Islamabad in 2016 after cross-border terror attacks that were blamed on Pakistan-based groups. India's move was supported by other members and the fate of the summit has hung in the balance since then.
Meetings of senior officials of Saarc states have been held since then but India has maintained that the environment is not conducive to holding the summit, officials said.
Close Story