Military, militancy can't solve Kashmir issue: UK seminar
Published on Jan 24, 2018 03:17 PM IST
The seminar held in Birmingham on Sunday by Kashmir Voice International (KVI) attracted speakers from India and Pakistan.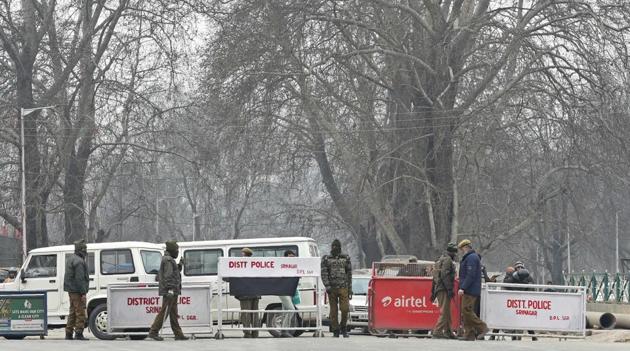 A seminar on international awareness about the Jammu and Kashmir issue was told that neither militancy nor military operations could solve the problem between India and Pakistan, and speakers called for more action to raise it at the international level.
The seminar held in Birmingham on Sunday by Kashmir Voice International (KVI), an organisation comprising UK-based individuals with origins in the Kashmir Valley, attracted speakers from India and Pakistan who dwelt on the theme of support at the international level for the Kashmir issue.
According to justice Sharief Hussain Bokhari from Lahore, "military operations or militancy cannot solve the Kashmir dispute...It is the responsibility of the people of Jammu and Kashmir, wherever they live to convince the international community that Kashmir is the issue of life and honour of 20 million people".
KVI chairman MA Raina said the speakers were unanimous in their view that the issue lacked the required support at the international level because Kashmiris around the world had failed to unite and follow a common programme, a statement from the organisation said.
He claimed that false hopes were being raised that the world community is seriously engaged with India and Pakistan to settle the issue, and questioned the utility of demonstrations by Kashmiri groups. Such acts, he said, were a waste of resources and did not help the resolution of the issue or stop alleged human rights violations.
Based on experiences of the past 70 years, Raina said KVI did not see any prospect of the UN resolutions on Kashmir being implemented. He said the best way to resolve the issue was for all communities to come together and explore an achievable and acceptable solution.
Siddiq Wahid, a Srinagar-based academic, said after the Simla Agreement, Kashmir was considered a bilateral issue and India now considered it an internal issue. India's increasing economic power and political influence at the international level was accompanied by decreasing support for the Kashmir issue, he said.
According to Irshad Ahmed Shah of the University of Kashmir, the Hurriyat Conference could not articulate or plead the Kashmir case and influence international opinion. There were more important issues than "azadi", he said, and regretted that a political issue had been projected as a religious issue.
Speakers included Ravinder Pandita from Delhi, Khurshaid Nehami, a UK-based engineer hailing from Srinagar, Azmat Khan of the JKLF, Rana Shama Nazir, Sumara Farooq, Nighat Iftikar and Rifat Mughal, the statement said.