Nikki Haley meets Trump today, speculations rise about secretary of state job
South Carolina governor Nikki Haley leading contender for the job once held by Hillary Clinton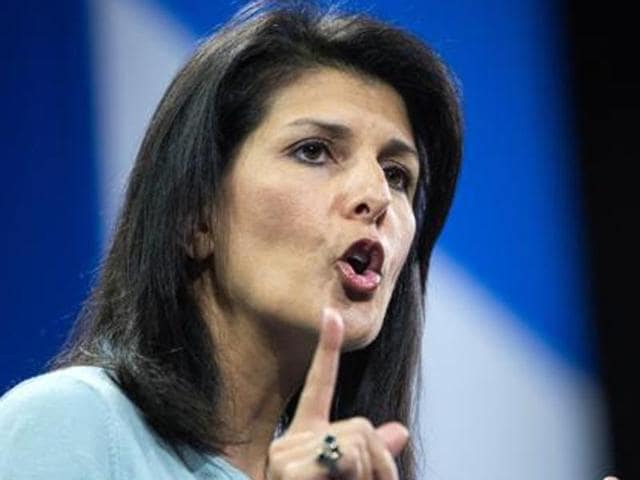 Updated on Nov 17, 2016 10:10 PM IST
Hindustan Times |
, Washington
Yashwant Raj
Nikki Haley, the Indian American governor of South Carolina, was set to meet president-elect Donald Trump amid talk of a cabinet berth, possibly secretary of state, the high-profile position that has been the subject of feverish speculation.
Former New York City mayor Rudy Giuliani has led the race for the job in recent days, joining a list that already had Senator Bob Corker, former US ambassador to the UN, John Bolton, former House speaker Newt Gingrich and a few others.
Haley, a two-term governor of South Carolina and rising star in the Republican party, entered the race in an unexpected turn on Wednesday, given her past differences with Trump marked by a sharp exchange of words; put-downs, on his part.
There was no word on the names from Trump or his transition team, which has been putting together his cabinet and the administration of about 4,000 positions, most of which are expected to be in place by his inauguration on January 20.
Trump did refer to the process and the meetings on Thursday in this tweet: "My transition team, which is working long hours and doing a fantastic job, will be seeing many great candidates today." One of them is Haley.
There has been some speculation about another Indian American in the running for a cabinet position, former Louisiana governor and presidential candidate Bobby Jindal, for human and health services, which has been his expertise. But he has not been to Trump Tower, not publicly at least.
Those in the running for other important positions include Senator Jeff Sessions for secretary of defence and attorney general, conservative commentator Laura Ingraham for press secretary and retired general Michael Flynn for national security adviser.
Trump has already named Republican party chairman Reince Priebus as his chief of staff, and Steven Bannon, a controversial right-wing media executive, as his chief strategist, and drawn considerable amount of criticism over the latter.
Haley, whose birth name is Nimrata Randhawa, is anything but controversial. She is a rising star in the Republican party who was once considered a leading vice-presidential pick for Jeb Bush or any of the other more traditional candidates in the fray.
She was among the first of senior Republicans to openly criticise Trump, questioning his pandering of disaffected Americans, saying, "During anxious times, it can be tempting to follow the siren call of the angriest voices."
This was during the primaries, and Haley's remarks came in a speech that was the Republican party's response to President Barack Obama's state of the union address – a tradition used by parties in opposition to promote their promising stars.
Trump, not known to pass up on an opportunity to hit back against a slight, did respond, saying the next day, "She's very weak on illegal immigration." And, he added, she was not "off to a good start" to be his running mate.
But that was then. Trump's team is understood to have reached out to several other critics and rivals for top cabinet positions – Senator Ted Cruz is reported to be in the running for the position of attorney general, for instance.
Kelly Ayotte, a Republican senator who lost her re-election bid from the swing state of New Hampshire as she went from endorsing Trump to dumping him, is said to be in the race for the all-powerful portfolio of secretary of defence.
Some Trump campaign insiders were skeptical about Ayotte's chances, saying the president-elect preferred loyalty over everything and was unlikely to reward critics and rivals with plum positions.
They took the same line on Haley, overlooking the invitation to Trump Tower, which made loyalty a less critical test than it is being made out to be. Was she being considered for secretary of state? That's the word so far.
The Indian-American community, which votes mostly Democratic and has been despondent since the stunning defeat of Hillary Clinton, was electrified by the speculation about Haley being considered for the position.
There was word that the community would come together to back her nomination, if she were to get it, cutting across party lines. As it would for Jindal, with whom the community has had a prickly relationship over his efforts to distance himself from it.
Close Story
Personalise your news feed. Follow trending topics