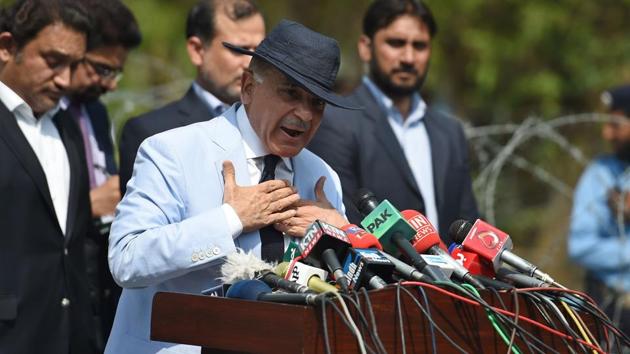 PML-N names Shehbaz Sharif as acting president, makes Nawaz Sharif 'leader for life'
The announcement was made in PML-N's Central Working Committee meeting in Lahore which was presided over by Nawaz Sharif.
Hindustan Times, Islamabad | By Imtiaz Ahmad
UPDATED ON FEB 27, 2018 07:41 PM IST
Pakistan's ruling PML-N party on Tuesday appointed Punjab chief minister Shehbaz Sharif as its acting president after the current president, Nawaz Sharif, stepped down in the wake of a Supreme Court order barring him from holding the position.
Nawaz, a three-time premier, was elevated to post of "Quaid (leader) for life" of the PML-N. He has said the top court had no business making the decision to oust him from the party position.
The announcement about the appointment of Nawaz's younger brother to the top post was made by the PML-N's central working committee (CWC) during a meeting held in Lahore. Nawaz presided over the meeting that was also attended by Prime Minister Shahid Khaqan Abbasi.
Speaking at the meeting, Nawaz said that despite there being no dictatorship in Pakistan, verdicts from the judiciary harked back to the era of dictatorships. He added elected prime ministers had never been allowed to complete their tenure in the country's history.
"How long will this keep happening and how long can the country function like this?" asked Nawaz, who was ousted from the post of prime minister by the Supreme Court last year for dishonesty in declaring his assets.
"It has been more than six months, yet not even an iota of corruption evidence have been furnished against me in the court. Despite that, I was sent home packing by the judiciary," he said.
Nawaz also noted he was stripped of the PML-N presidency even though only the party's workers have the right to elect whomever they see fit to lead the party. He said the politicians were an easy target but the judiciary wouldn't dare put its hands on dictators.
On February 21, the Supreme Court barred Nawaz from being the head of the PML-N by striking off an amendment to the Elections Act that have paved the way for him to lead the party after his disqualification in the Panama Papers case.
A bench headed by Chief Justice Mian Saqib Nisar declares that any person disqualified under Articles 62 and 63 of the Constitution is barred from holding the position of head of a political party.
Observers believe Nawaz's removal from the party post could impact the PML-N's campaign for the general election to be held by the middle of this year. Shehbaz, who has a formidable reputation as an administrator but is considered less charismatic than Nawaz, is expected to be the party's prime ministerial candidate.
Close