Problems pile up for unlucky village near epicentre of Mexican quake
Updated on Sep 23, 2017 06:57 PM IST
The epicentre of the 7.1 magnitude tremor, which has claimed nearly 300 lives so far, levelled dozens of buildings in Mexico City, sparking a desperate search for survivors.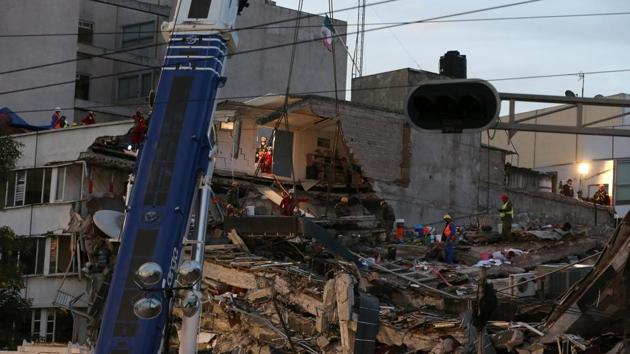 Yesenia Vergara grabbed her two daughters and abandoned her home in the isolated Mexican hamlet of Huautla late last month when rain-swollen river waters burst through her window, flooding her house with branches, boulders and mud.
Just two weeks later, Mexico's deadliest earthquake in a generation delivered a second blow to her simple riverside home, financed with money sent back by her husband from the United States.
"This is the end of the world, I thought. Now is the time that God has called us to be judged," Vergara said, recalling the moment when the quake struck in the early afternoon last Tuesday.
"The village was just getting back on its feet and now another tragedy has come," she said.
The epicenter of the 7.1 magnitude tremor, which has claimed nearly 300 lives so far, levelled dozens of buildings in Mexico City, sparking a desperate search for survivors. The quake struck 70 km (45 miles) from Huautla, a charming settlement nestled amid the lime-green mountains of Morelos state.
While the Mexican capital has been over-run with eager volunteers amid an outpouring of support, the villages of Morelos and Puebla states that lie near the epicenter have received much less attention.
A growing cadre of well-wishers sought to rectify that on Friday, fanning out across the states' backroads, trudging through knee-high streams to deliver food, water and medicine to remote populations high up in the mountains.
Far outpacing the government response, the volunteers' patriotic reaction has cheered a traumatized country. It has also provided a sharp contrast to the increasingly politicized reaction to the tremor, which sparked a virtual arms race between political parties seeking to outdo each other with donations to relief efforts.
"We feel very grateful," Vergara said of the volunteers. "But also very disappointed with the government."
"We are scared"
Although the quake didn't destroy any buildings in Huautla, Mayor Miguel Medina said 10 families out of roughly 1,000 people were evacuated because some 100 structures were damaged.
By Friday afternoon, Vergara said nobody had yet come to inspect the thick cracks menacing her home, exiling her and her young family to her mother's house.
Fortino Garcia, a 48-year-old taxi driver from the city of Cuernavaca, was among eight people who had driven from Mexico City to deliver aid to villages in the area.
Although he approved of the government's reaction to the quake, he criticized politicians who he said were trying to capitalize on the tragedy by placing stickers with their name or party on supplies collected by volunteers.
"Lots of politicians are sadly jumping on this to campaign," he said in Huautla's main square, after delivering diapers, sanitary towels and water.
A growing resentment over how the aid was being distributed by village officials was on display as residents accused officials of cherry-picking better quality donations of clothes and food and leaving less desirable ones for the villagers.
In a warehouse in the center of the village where hundreds of women were lining up for food and water, Medina denied he or any of his employees had been profiting from the aid, which he said came from all over the world.
"People from other countries have come to give us their little grain of sand," he said. "We're very surprised and thankful."
Still, rumors of official malfeasance could be found on every corner.
Like much of Mexico, crime and violence in Huautla had risen dramatically over the last few years, according to a shopkeeper who declined to give her name out of fear. She said some villagers took up arms last month and installed themselves at the entrance to the town to ward off outsiders.
In July, she said, an elderly woman was killed when she interrupted a burglary in her home, something previously unheard of in this quiet farming settlement.
Given the impact of the flood, the quake and rising violence, she said she was less optimistic for the future of her teenage daughter, who was listening by her side.
"We're scared," the shopkeeper said. "Things aren't like they used to be.