Researched murder: Indian-origin man who looked up ways online to kill wife gets 30 years jail
Mitesh Patel had, according to police, planned his wife's murder for a number of years and finally executed it this year, trying to pass it of as a crime. He had planned to get her insurance payout and move to Australia to be with his boyfriend.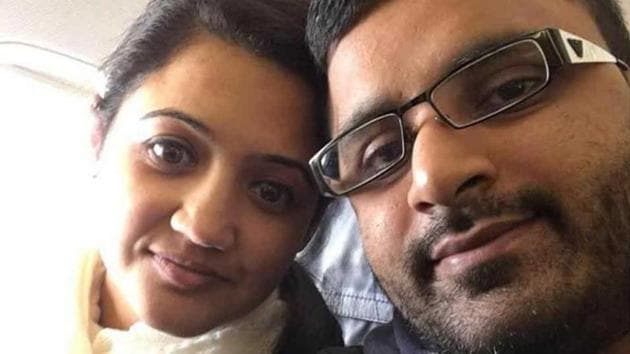 Updated on Dec 05, 2018 10:08 PM IST
Mitesh Patel, a Yorkshire-based pharmacist who murdered his wife Jessica Patel in a premeditated attack so he could start a new life with his boyfriend in Australia, has been jailed for a minimum of 30 years.
The Cleveland police said Patel, 37, strangled Jessica, 34, with a plastic bag after planning her murder so he could use her frozen embryos to have a family with his lover in Sydney.
The Teesside Crown Court was told she was aware for six years that her husband was in love with another man and was having casual sex with men he met on a dating app.
Detective chief inspector Matt Murphy-King said: "Jessica Patel was a wonderful daughter, sister and friend, loved and respected by many, who tragically had her life cut short by the man who should have been there to love, cherish and protect her".
"During the course of the murder investigation, significant evidence emerged which proved Mitesh Patel had researched and planned Jess's death for a number of years, which culminated in Jess's murder on 14th May this year".
"In an effort to disguise his crime and seek to fool the murder investigation team into believing that Jess had been murdered whilst Mitesh was out walking, Mitesh went to the extreme of staging the murder scene making it appear as though Jess had been murdered during a burglary, something which the investigation categorically proved to be a lie - one of the many lies which Mitesh spun to conceal his guilt and devious lifestyle", he said.
When the 30-year sentence was pronounced in court, Patel showed no emotion as Justice James Goss told him: "You are a selfish man, business driven, wanting a very successful life and wishing to retire at 40".
"You were also wanting to commit to a life with another man on your own terms and you well knew that insurance policies would realise £2 million on Jessica's death," he said, adding that a 30-year minimum term was reserved for only cases where the seriousness of the offence is "particularly severe".
The jury was told how Patel subdued his wife with an insulin injection before strangling her at their home in Linthorpe, Middlesbrough. The pharmacist had carried out online research about strangulation and the effects of insulin.
After the murder, Patel ransacked the couple's home in an attempt to make it appear that intruders had murdered Jessica on May 14 this year. His deception was uncovered after police examined the iPhone health app, which tracks the user's steps throughout the day, on his and his wife's phones.
Prosecutors said Patel's motivation had always been to escape his strict Hindu upbringing and flee to Australia to be with his lover and start a new family.
Close Story