SpaceX to launch first reused rocket in cost-cutting measure
By reusing rockets, SpaceX aims to cut its costs by about 30%, the company has said.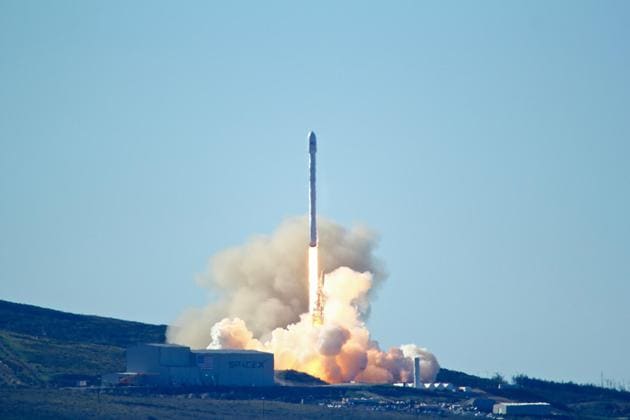 Updated on Mar 30, 2017 09:04 PM IST
SpaceX is aiming for another space industry first when it plans to launch a Falcon 9 rocket that has flown before, a key step in billionaire entrepreneur Elon Musk's quest to cut the cost of space flight.
The rocket is scheduled to blast off from the Kennedy Space Center in Florida to deliver a communications satellite into orbit for Luxembourg-based satellite operator SES SA (SESFg.LU).
Musk's SpaceX, formally known as Space Exploration Technologies Corp, made history in December 2015 when it landed an orbital rocket for the first time, a feat it since has repeated seven times.
By reusing rockets, SpaceX aims to cut its costs by about 30%, the company has said. It lists the cost of a Falcon 9 ride at $62 million but has not yet announced a price for flying on a used rocket.
SES received a discount for joining the inaugural run, chief technical officer Martin Halliwell told reporters, declining to specify the cost.
Price alone was not the reason SES, with a fleet of 65 satellites, decided to fly on a used rocket, he said.
"Someone has to go first," Halliwell said. "Really what we want to do here is encourage the launcher industry to follow this way forward."
Proving the concept works is crucial to SpaceX, which is moving on from an accident in September that damaged another Florida site.
SpaceX also is working on a passenger spaceship, with two unidentified tourists signed up for a future trip around the moon. The company's long-term goal under founder Musk is to fly people to and from Mars.
For its 33rd mission, SpaceX is reusing a Falcon 9 booster that originally flew in April 2016.
"We don't believe we're taking an inordinate risk here," said Halliwell, noting that the rocket is in sufficiently good shape that its launch insurance rates did not increase.
He declined to give the cost of the SES-10 satellite.
After sending the SES-10 satellite on its way to orbit, the rocket's first-stage will turn around and attempt to land itself on an ocean platform. If successful, SpaceX could fly the booster a third time, said company spokesman John Taylor.
The rocket's second-stage, which is not recovered, will continue firing to carry SES-10 into an initial egg-shaped orbit high above Earth. It will provide TV and other communications services to Latin America.
Close Story