Sri Lanka's political turmoil could lead to closer China ties
Blommberg |
Iain Marlow and Anusha Ondaatjie
Oct 27, 2018 06:46 PM IST
The return of Rajapaksa may also dent New Delhi's influence in Colombo, given Wickremesinghe's attempts to re-balance Sri Lanka's foreign relations away from China and toward India and Japan.
Sri Lankan president Maithripala Sirisena suspended parliament, deepening a power struggle that has led to the return of former strong-man president Mahinda Rajapaksa and could herald closer ties with China.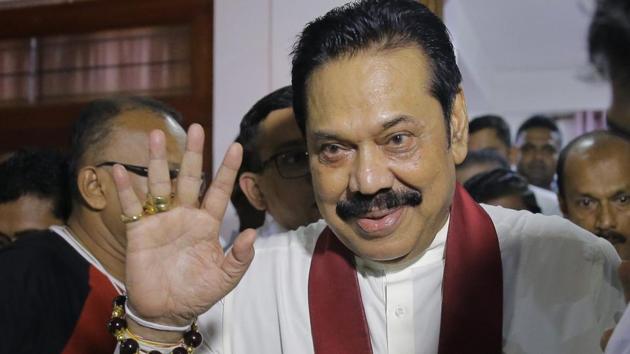 On Friday evening, Sirisena unexpectedly dismissed prime minister Ranil Wickremesinghe and appointed Rajapaksa -- who ruled between 2005 and 2015 -- as his replacement. Wickremesinghe is contesting his removal and is likely to challenge it as unconstitutional in the courts. Parliament has been suspended with immediate effect, the speaker's office said Saturday.
Shortly before the suspension, Wickremesinghe said at a press conference that he still commanded the majority backing in parliament and called for a special session of the legislature to prove it.
"Life is a fight. We should not worsen the situation" of the people of Sri Lanka, Wickremesinghe said.
Sirisena's move is being perceived as a way to retain political power by co-opting Rajapaksa's residual popularity among many Sri Lankans, who credit the former president's tough approach -- condemned internationally by human rights groups -- with ending the country's brutal 26-year civil war in 2009.
The decision to reappoint Rajapaksa, who had been making political inroads against Sirisena including in local elections earlier this year, could also have a geopolitical impact, with his ties to China and history of borrowing heavily from Beijing to fund infrastructure projects. The return of Rajapaksa may also dent New Delhi's influence in Colombo, given Wickremesinghe's attempts to re-balance Sri Lanka's foreign relations away from China and toward India and Japan.
'Sirisena brought back Rajapaksa for political self-preservation, but along the way it will re-open the door to Chinese funding,' said Shailesh Kumar, Asia director at political risk firm Eurasia Group. Rajapaksa has many friends in China and handled most of the Chinese inflow, Kumar said. 'This transition will ensure that China can once again prevail over Sri Lanka's economy as they have a friend in the prime minister's office -- in contrast to Wickremesinghe.'
On Saturday, the U.S. and European Union said it was following the events closely.
'We call on all parties to act in accordance with Sri Lanka's constitution, refrain from violence, and follow due process,' the U.S. State Department said on Twitter. 'We expect the government of Sri Lanka to uphold its Geneva commitments to human rights, reform, accountability, justice, and reconciliation.'
Deep in Debt
Rajapaksa, who remains enormously popular in Sri Lanka, has a controversial past. He led a final assault on minority Tamil separatists and ended decades of violence, but was criticized by human-rights groups and foreign governments. He also took numerous loans from China to fund large infrastructure projects, including the construction of a port in southern Hambantota -- his own political constituency -- that lost money and was eventually sold to a state-owned Chinese firm in a debt-to-equity swap on a 99-year lease. Roughly 80 percent of Sri Lanka's total government revenues go toward paying debt.
Although it was Rajapaksa-era loans that sank Sri Lanka into debt, the decision to hand the port back to China was made by Wickremesinghe -- and was roundly criticized. In a sign of how fraught relations were among Sri Lanka's two top leaders, Wickremesinghe was forced to defend himself against a no-confidence vote that was backed in part by Sirisena's party. He defeated the motion.
There was a general sense that Wickremesinghe wasn't steering the economy properly, and his replacement by Rajapaksa is likely to prove popular with the general public, said Sanjeewa Fernando, a strategist at CT CLSA Securities in Colombo. The federal budget may also be delayed as a result of this move, he added.
'There was this notion that nothing is being executed properly,' Fernando said. 'It has to do with sentiment. There is a general excitement for change.'
With Sri Lanka still reeling under debt payments and global market turmoil making international financing less likely, the appointment of Rajapaksa could ensure a steady source of capital from China at a time when few other countries are interested in investing there, Eurasia's Kumar said.
'Last Hope'
The replacement of Wickremesinghe came as Sri Lanka's political parties jostled for power.
Mahinda Amaraweera, general secretary of Sirisena's United People's Freedom Alliance, told MTV news television that the party decided to quit the unity government due to 'economic troubles' and questions of national security, including an alleged plot to assassinate Sirisena.
With Friday's defection, Rajapaksa and Sirisena have the backing of about 95 parliamentarians in Sri Lanka's 225-seat legislature. A simple majority of 113 is needed to show that the prime ministerial candidate has the confidence of parliament. It is not yet clear what support Wickremesinghe is left with.
Calls to both camps went unanswered on Saturday.
The developments in Sri Lanka also play into broader rivalry between India and China across the Indian Ocean. Beijing's potential gains in Sri Lanka could make up for the perceived loss of Chinese influence in the tiny archipelago nation of Maldives, where a recent election turfed former President Abdulla Yameen, who had also moved closer to China at the expense of relations with India.
It's 'a broader ongoing fight for influence between India and China in South Asia,' Kumar said. 'China is once again emerging as Colombo's last hope.'
(This story has been published from a wire agency feed without modifications to the text. Only the headline has been changed.)
"Exciting news! Hindustan Times is now on WhatsApp Channels
Subscribe today by clicking the link and stay updated with the latest news!"
Click here!
Get Latest
World News
along with
Latest News
from
India
at Hindustan Times.