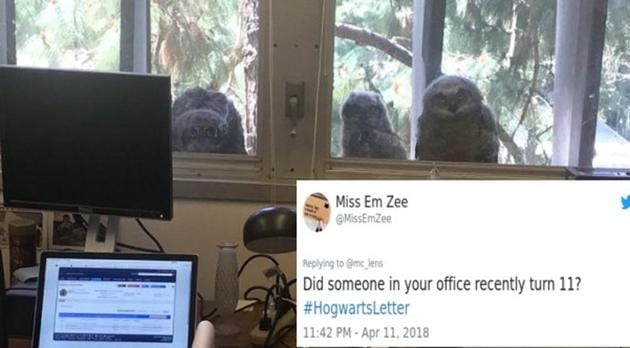 These owls won't stop staring through an office window and Twitter finds them a hoot
"I. Just. Can't. Even"
PUBLISHED ON APR 14, 2018 06:47 PM IST
It is not uncommon to see pigeons perching or nesting on window ledges. But this office building in Los Angeles had some unusual visitors and they just wouldn't stop staring at the workers inside.
Twitter user Michael lens recently posted a photo of three owls that hatched outside his colleague's windowsill a few weeks ago.
Now, the owls are all grown up. And their constant gaze is making it difficult for people to work.
Lens, who is a professor at University of California, wrote," Owls were born on my colleague's windowsill a few weeks ago and I. Just. Can't. Even."
The tweet went viral with more than 45,000 retweets and 190,000 likes since being shared on April 11. The dark-coloured owls with their fixed stares became instant social media celebrities.
"I couldn't possibly do any work under these conditions. On the other hand, there would be no point in firing me, because I would never give up this desk," wrote Kate Adams, a Twitter user.
While most people called the owls 'sweet little critters' and 'adorable'', some people did find the trinity of staring owls a bit 'creepy'.
Close