This concrete composite can help buildings withstand quakes
Updated on Oct 29, 2017 07:34 PM IST
The project was funded by a Canada-India research collaboration centre and this material will be tested in a building in Uttarakhand before the end of the year.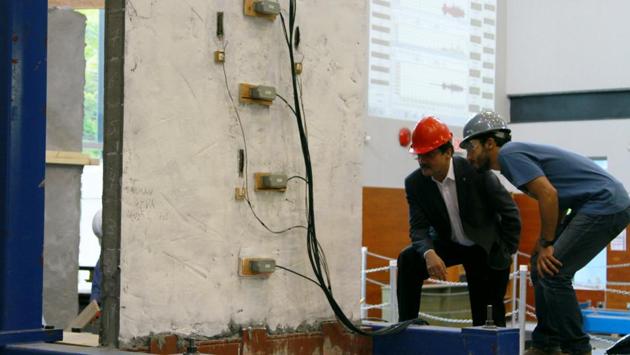 A concrete coating developed by researchers in Canada that can help withstand earthquakes will be tested in a building in Uttarakhand later this year.
The spray-on composite developed at the University of British Columbia is the latest grassroots-oriented innovation to have emerged out of a premier centre for technological collaboration between Indian and Canadian institutes.
The eco-friendly ductile cementitious composite or EDDC, is currently being tested at an elementary school in Vancouver. Once those tests are complete, it will be applied to a school in Roorkee, according to Nemkumar Banthia, professor of civil engineering at UBC, who supervised its development, which was led by Salman Soleimani-Dashtaki, a scholar at the University's department of civil engineering.
Banthia is also scientific director of the India-Canada Centre for Innovative Multidisciplinary Partnerships to Accelerate Community Transformation and Sustainability or IC-IMPACTS, which funded this project.
UBC described the new material as "new seismic-resistant, fibre-reinforced concrete" and noted that it "is engineered at the molecular scale to be strong, malleable, and ductile, similar to steel—capable of dramatically enhancing the earthquake resistance of a seismically vulnerable structure when applied as a thin coating on the surfaces."
Professor Banthia told HT the purpose has always been "to create a material that behaves like steel."
Concrete is brittle and cracks under stress leading to the collapse of buildings. One of its major characteristics, Banthia explained, is that "it can deform three times more than steel does. If you look at steel, it will continue to take stresses, (whereas) steel will bend, give you a great deal of ability to deform the structure and the structure would still remain intact."
The material is sprayed on to unreinforced masonry walls, as exists in his parents' home in Nagpur, Banthia said.
"And three-quarters of buildings in India are built that way. These don't take a lot of earthquake shaking because they will collapse very very easily. The same structure, when you put this coating of EDCC, we were able to take up to 9.1 Richter earthquakes on the walls that we tested. We still couldn't fail it."
In fact, the research team took the ground motion data from the 2011 Tohoku earthquake in Japan, which led to the Fukushima disaster, and simulated stress tests on walls coated with the substance.
"We are very confident that even a 10 mm coating of this highly ductile, elastoplastic, steel-like material is the one which can actually help us survive a number of these buildings during earthquakes," Banthia said. In addition, 70% of the cement usually required for such material has been replaced with fly ash. "We can now utilise the 150 million tonnes of fly ash India has in these highly optimised sprays," Banthia said.
The test at a school in Roorkee will commence before the end of this year and that area was chosen specifically as Uttarakhand is among the most seismically vulnerable regions in India.
Founded just four years ago, IC-IMPACTS has funded 38 research projects and 15 demonstration projects of which EDDC is the latest innovative outcome.
This summer, another project under its aegis was a new type of concrete for pavements, that uses fibre from discarded tyres.
Last year, it also developed technology for self-repairing roads, with a pilot project undertaken in Karnataka.
This transcontinental partnership features the UBC, University of Alberta and the University of Toronto in Canada and multiple leading institutes in India, including several IITs.