Tibet is a natural security barrier, says Chinese leader at Lhasa expo
Hindustan Times, Lhasa |
, Lhasa
Sutirtho Patranobis
Sep 08, 2018 11:38 PM IST
Stressing the importance of Tibet as a natural "security barrier", a senior Chinese leader has described the region as a key gateway to South Asia through Nepal
Stressing the importance of Tibet as a natural "security barrier", a senior Chinese leader has described the region as a key gateway to South Asia through Nepal.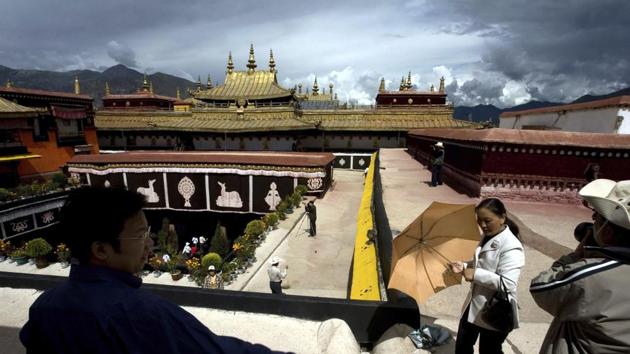 Qi Zhala, chairperson of Tibet Autonomous Region, was speaking on Friday at the 4th Tibet Tourism and Culture Expo, aimed at attracting more tourists to TAR – a symbol of opening up of a region that continues to restrict foreign tourists and entirely ban diplomats and journalists except with a government permit.
"Tibet is a sacred and inseparable part our great motherland. It is an important national security barrier and ecological security barrier," Qi said at the inaugural function of the expo.
China has continued to militarily strengthen its border areas with India. Its Western Theatre Command is mainly responsible for mountain warfare at the border area with India. The Sino-India Line of Actual Control stretches to 3,488-km including the high altitude Tibetan plateau.
The nationalistic tabloid Global Times had reported earlier this year that China had upgraded its air defence system in the region with fighter aircraft.
International delegates at the week-long Lhasa expo include a large group from Nepal, the only country that has a consulate in remote Lhasa, located at an altitude of over 3,600 metres.
In his speech, Qi referred to the two countries signing a deal in 2017 to construct a cross-border economic zone.The Chinese ministry of commerce had then said it was an important project under President Xi Jinping's Belt and Road Initiative. The construction of the zone is currently on.
"The construction of the Jilong international port (on the China-Nepal border) is solidly promoted and the construction of the China-Nepal Cross-border Economic Cooperation Zone and the Lhasa Comprehensive Bonded Zone is accelerated," Qi said.
The Gyirong, or Jilong, port is considered to be China's gateway to South Asia and in 2017, the TAR government declared the land port as an international port to encourage trade between China and Nepal.
The statement from Qi came the same day as China and Nepal finalised new protocols for cross-border trade in Kathmandu, under which Nepal will have access to China's land and sea ports. The TAR will play a key role in the bilateral trade.
"Officials from the two sides finalised the protocol of the Nepal-China Transit and Transportation Agreement that will allow Nepal to use the Chinese ports of Tianjin, Shenzhen, Lianyungang and Zhanjiang," said a statement from the industry and commerce ministry of Nepal on Friday.
The statement added that China had agreed to allow Nepal to use the TAR land ports at Lanzhou, Lhasa and Xigatse.