'No more': US foolishly gave billions to Pakistan, got lies in return, says Donald Trump
Updated on Jan 01, 2018 10:41 PM IST
The US president said Pakistan gives safe haven to the terrorists US hunts in Afghanistan.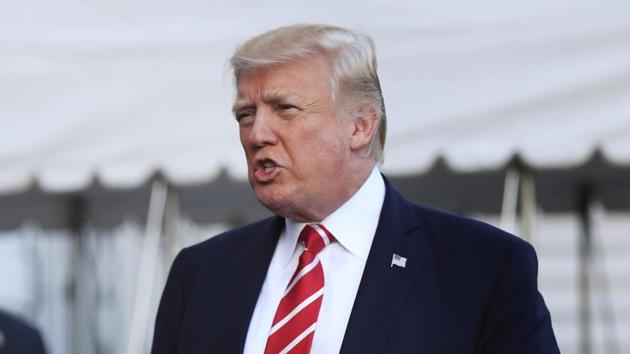 President Donald Trump on Monday threatened to cut off all aid to Pakistan, accusing it of harbouring foreign terrorists and lying about it, hours after a news report said Islamabad was preparing to take control of charities and assets linked to Lashkar-e-Taiba founder Hafiz Saeed in the face of growing pressure from the United States and the Financial Action Task Force (FATF).
Noting that the US had "foolishly given" Pakistan more than $33 billion dollars in aid over 15 years, Trump tweeted: "They give safe haven to the terrorists we hunt in Afghanistan, with little help. No more!" His comment highlighted heightened global scrutiny into Islamabad's affairs and his administration's visible alignment with India's long-held stance that Pakistan is a terror hub.
Pakistan's finance ministry, in a secret order dated December 19, directed law enforcement agencies and governments in the country's five provinces to frame an action plan by December 28 for a "takeover" of Saeed's Jamaat-ud-Dawa (JuD) and Falah-e-Insaniyat Foundation (FIF), Reuters reported, citing officials and classified documents.
Late on Monday, the Securities and Exchange Commission of Pakistan prohibited the collection of donations by LeT, JuD and other groups sanctioned by the UN Security Council. The commission warned there would be a penalty of up to Rs 10 million for non-compliance with the UN sanctions regime.
"The Securities and Exchange Commission of Pakistan hereby prohibits all companies from donating cash to the entities and individuals listed under the UNSC sanctions committee's consolidated list," a notification said.
India holds Saeed responsible for the 2008 terror attacks in Mumbai and says Pakistan is soft on the JuD chief, who was recently released from house arrest and has floated a political party to contest the general elections this year.
Saeed, who founded the LeT in 1987, operates openly despite the US offering a $10 million bounty for him.
Pakistan's planned action against the JuD and FIF – designated as fronts for the LeT by the US and the UN – also appears to be linked to the Paris-based FATF's directive asking for a compliance report on steps taken to stem financing for the LeT and JuD to be submitted by February.
The December 19 document cited by Reuters referred to "Financial Action Task Force (FATF) issues" while naming the JuD and FIF and "actions to be taken" against them.
The FATF has already warned Pakistan that it faces inclusion on a watch list for failing to crack down on terror financing. Such a designation could have significant implications for Pakistan's banks and business sector.
Officials who attended meetings to discuss the planned crackdown raised the possibility that Pakistan's failure to act against the JuD and FIF could lead to UN sanctions. A UN Security Council team will visit Pakistan in late January to review progress against UN-designated terror groups.
"Any adverse comments or action suggested by the team can have far-reaching implications for Pakistan," one official told Reuters.
Interior minister Ahsan Iqbal, who co-chaired one of the meetings on the crackdown, said he had ordered authorities "to choke the fundraising of all proscribed outfits in Pakistan".
The US has been tightening the screws on Pakistan for not cracking down on groups such as the LeT and Haqqani Network, which targets American forces in Afghanistan.
The Trump administration is already considering withholding $255 million in delayed aid to Pakistan over its failure to crack down on terror groups. The issue was also taken up by secretary of state Rex Tillerson and defence secretary James Mattis during their recent visits to Islamabad.
Last week, vice president Mike Pence told US troops during a visit to Afghanistan: "President Trump has put Pakistan on notice."
Though the planned action would be one of the biggest crackdowns on the extensive charity and fund-raising network overseen by Saeed, this would not be the first time Pakistani authorities have acted against the JuD.
Soon after the Mumbai attacks, dozens of JuD offices and facilities, including madrasas, were sealed or taken over by authorities. However, it later emerged that the government of Pakistan's Punjab state had allocated more than Rs 410 million in its budget for 2013-14 for the JuD's largest centre spread over 200 acres at Murdike on the outskirts of Lahore.