Trump govt shuts down after Senate fails to pass funding proposal
Updated on Jan 20, 2018 08:46 PM IST
The US government shut down at midnight after Congress failed to resolve a partisan standoff over immigration and spending.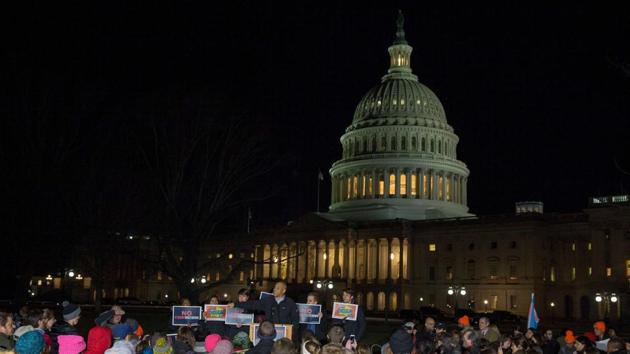 Hindustan Times, Washington |
Yashwant Raj
The US Congress on Friday failed to pass a spending bill to fund the federal government, shutting down President Donald Trump's administration and delivering him yet another legislative defeat.
Congress had a deadline of 12:01 am on Saturday to send Trump a short-term budget to run the federal government. The Democrats wanted a funding proposal to be tied to an immigration deal that protects Dreamers —undocumented immigrants brought to the US as children. The Republicans and the Democrats failed to reach a compromise, and the budget failed to pass.
Trump and the Republicans blame the impasse on the Democrats.
"Democrats are far more concerned with Illegal Immigrants than they are with our great Military or Safety at our dangerous Southern Border. They could have easily made a deal but decided to play Shutdown politics instead," Trump tweeted.
"Senate Democrats own the Schumer shutdown," White House press secretary Sarah Huckabee Sanders said in a statement, referring to Chuck Schumer, leader of senate Democrats. "Tonight, they put politics above our national security, military families, vulnerable children, and our country's ability to serve all Americans.
"We will not negotiate the status of unlawful immigrants while Democrats hold our lawful citizens hostage over their reckless demands. This is the behaviour of obstructionist losers, not legislators. When Democrats start paying our armed forces and first responders we will reopen negotiations on immigration reform. During this politically manufactured Schumer shutdown, the president and his administration will fight for and protect the American people."
Trump, who had planned to celebrate a year in office with festivities at his Mar-a-Lago resort, now faces an anniversary with a shutdown and an estimated 850,000 federal workers on temporary unpaid leave, called furlough.
The shutdown could be over on Monday if Congress decides to not leave town and hunker down till a solution is found. These negotiations can last for days — in Bill Clinton's tenure, the shut down lasted for 21 days.
Not every federal employee will be affected. Trump will continue to work and his trip to the World Economic Forum at Davos, Switzerland is still on. He will also travel with his usual retinue of staff and security personnel, a senior administration official said.
Active duty military personnel will continue to be at work — the hunt for terrorists in Pakistan and Afghanistan, for instance, will continue. However, civilian employees of the Pentagon will be furloughed.
Visa processing services will still be on, as the US Citizenship and Immigration Services is funded by the fees it charges applicants. However, firms applying for work visas will run into trouble — the labour department that approves applications will likely be shut.
Personalise your news feed. Follow trending topics