US has strongly urged Pakistan to not allow terror havens: Nikki Haley
Jun 28, 2018 10:14 PM IST
US ambassador to the United Nations, Nikki Haley said though in many instances Pakistan has been a partner of the US, it cannot tolerate the Pakistani government, or any other government, giving a safe haven to terrorists.
US ambassador to the United Nations Nikki Haley said on Thursday that Washington was urging Pakistan not to allow itself to be used as a safe haven by terrorists, and warned that the absence of democracy and fundamental freedoms in China would limit the Sino-American relationship.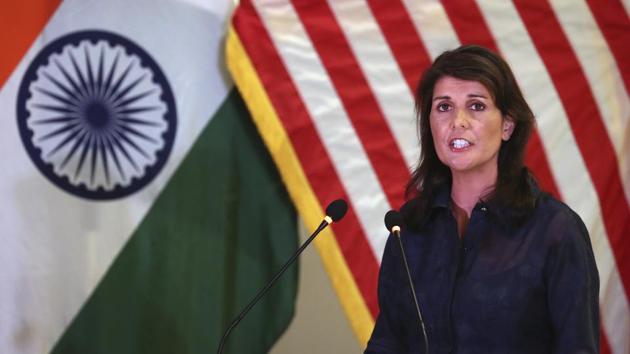 Haley said the US was approaching its relationship with Pakistan differently. "In many instances, Pakistan has been a partner with us, and we value and respect that. But we cannot tolerate its government, or any other government, giving safe haven to terrorists. We won't tolerate it," Haley said at the Observer Research Foundation, a New Delhi-based think tank.
On the Indo-Pacific region, Haley talked about "healthy and robust democracies" such as the US, India, Japan, and Australia while criticising China's lack of commitment to democratic values.
"This makes China's expansion of loans and investments in countries in the region a matter of concern for many of us," she said. China has used this approach to good effect in countries such as Sri Lanka, the Maldives and Pakistan, gaining control of assets and territories that are of strategic significance to it.
"China's failure to respect the rights of its people and the rule of law will limit its own ability to grow and prosper over the long term. And unlike with India, this will limit the United States' relationship with China," Haley said.
She added the Indo-Pacific's future would depend on how democratic nations addressed economic and strategic threats, and for that reason, India was not only a friend of the US but also a vital strategic partner.
A day after the United States postponed its inaugural 2+2 dialogue with India, citing "unavoidable reasons," Haley asserted that the delay in the talks between foreign and defence ministers of the two countries was "completely unrelated to India".
"The time and location are being rescheduled now. It will happen soon," she said.
The US state department had formally announced the date for the meeting (July 6) on June 21, ending months of uncertainty caused by postponements and cancellations because of scheduling and personnel changes.
"Our relationship will mark a new milestone when the US and India conduct the first ever 2+2 dialogue…This is an important sign of how much our security and defence cooperation has grown in recent years and the new level of strategic confidence in our partnership," she said, delivering a talk on Advancing India-US Relations at the Observer Research Foundation.
A US State Department spokesperson earlier told Hindustan Times: "This scheduling change has nothing to do with trade, sanctions, or any other policy issues."
"We remain firmly committed to our partnership with India and look forward to rescheduling the 2+2 as soon as possible," he added.
On North Korea, Haley said the regime had devoted a large chunk of its limited resources to its nuclear and missile programmes, even in times of famine and at great cost to its people.
"Only a strong, effective international sanctions effort has brought the regime to the negotiating table," Haley said.
Describing Iran as a theocratic dictatorship, she said Tehran abused its people, funded terrorism and was spreading conflict throughout the Middle East. "And its aggressive ambitions reach much further abroad. Iran's pursuit of a nuclear weapon threatens all of us," Haley said.
(With inputs from Yashwant Raj, Washington)
.