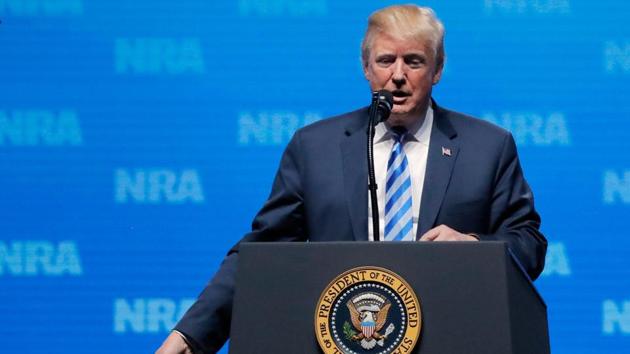 'We will live free, we will die free', Trump salutes NRA, says elect Republicans to save gun rights
US President Donald Trump rallied gun owners at NRA convention in Texas Friday, summarily rejecting calls for stricter laws despite a high school massacre in Florida that fuelled public demands for change.
Hindustan Times, Washington | By Yashwant Raj
UPDATED ON MAY 05, 2018 11:42 PM IST
US president Donald Trump issued a full-throated endorsement of gun rights as championed by their most powerful representative, The National Rifle Association, at the body's annual convention in Dallas, Texas.
"You're going to keep those rights," Trump said of gun rights in a 45-minute election rally-style speech, in which he jumped through various topics, as the pro-gun audience cheered him on. This was a stark departure from his defiant tone after the February 14 shooting at a high school in Parkland, Florida, in which 17 people including 14 students were killed by a former student.
On Friday, he was back in the fold. "Your Second Amendment rights are under siege. But they will never, ever be under siege as long as I'm your president."
"If we're going to outlaw guns like so many people want to do—Democrats—you better get out and vote," he said, seeking support for Republican candidates in the mid-term elections.
"We are going to have to outlaw immediately all vans and trucks which are now the new form of death for the maniac terrorists. Right? So let's ban, immediately, all trucks, all vans, maybe all cars. How about cars? Let's ban them. Let's not sell any more cars," he went on to add.
Trump has attended every NRA annual convention in the last five years, and for the second time as president. But never has the meet been attended by both the president and the vice president in the association's 147-year history. Vice-President Mike Pence spoke just ahead of Trump. "We will end this evil and protect our liberties at the same time," he said referring to the Florida high school shooting. "That's the American way."
Trump dwelt at length on the shooting and spoke of measures taken since the shooting to improve security at schools around the country and re-litigated his controversial, but NRA-backed, proposal to arm teachers.
"We strongly believe in highly trained teachers carrying concealed weapons," he said, "They're highly trained, and we want highly trained security guards. Ninety-eight percent of mass public shootings have occurred in places where guns are banned, just so you understand."
He continued: "There is no stronger deterrent for a sick individual than the knowledge that their attack will end their life and will end in total failure. When they know that, they're not going in. You're not going to have school attacks."
After the shooting at Parkland high school in Florida, Trump had tilted away from the NRA, suggesting publicly once, "We have to fight them every once in a while." He came out in support of a bill supported better data collection for background checks and issued an order banning "bump-stock", a device that speeds up semi-automatic rifles' shooting and which was used in the Las Vegas shooting in 2017.
But the president has since reeled himself back, back in alignment with the NRA. And the Friday speech, in which he spoke also of the economy, border security, immigration, tax reforms and North Korea, marked a full re-embrace.
Close