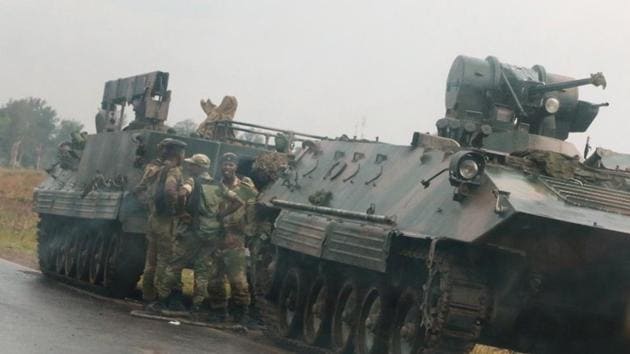 Highlights: Zimbabwe military seizes power, says targeting 'criminals' around President Mugabe
Soldiers deployed across the Zimbabwe capital Harare and seized the state broadcaster on Wednesday after 93-year-old President Robert Mugabe's ruling ZANU-PF party accused the head of the military of treason.
Hindustan Times, | By Agencies
UPDATED ON NOV 15, 2017 01:06 PM IST
In an extraordinary statement after taking over the state broadcaster and amid a night of unrest, Zimbabwe's army early Wednesday sought to reassure the country that "this is not a military takeover" and that although President Robert Mugabe was safe and sound, the military was targeting "criminals around him" who have sent the nation spinning into economic despair.
"As soon as we have accomplished our mission, we expect that the situation will return to normalcy," the army spokesman said, calling on churches to pray for the country.
The army took control of the state Zimbabwe Broadcasting Corporation late Tuesday and an army spokesman made the statement on air early Wednesday.
Here are the highlights:
1pm: In the wake of the military takeover in Zimbabwe, the national police force has recalled all officers on leave. A top police official who insisted on anonymity because he was not authorized to speak to the press told The Associated Press that all police on leave have been ordered to return to their posts immediately.
12.30pm: The ruling ZANU-PF party on Tuesday accused army chief General Constantino Chiwenga of "treasonable conduct" after he criticised Mugabe for sacking vice president Emmerson Mnangagwa.
11.30am: Military vehicles block road outside Zimbabwe parliament, reports AFP news agency.
11am: Zimbabwe war veterans leader praises army action as 'bloodless correction,' says military will restore democracy.
10.57am: Zimbabwe war veterans leader praises army action as 'bloodless correction,' says military will restore democracy.
10.13am: Zimbabwe soldiers, armoured vehicles seal road access to government offices, parliament building and courts in central Harare, a witness told Reuters.
9.48am: Zimbabwe's military detains Finance Minister Ignatius Chombo.
9.35am: Zimbabwe military assures judiciary its independence is guaranteed, says will protect civil service against planned purge.
9.20am: Zimbabwe's army urges other security services to "cooperate for the good of our country," warning that "any provocation will be met with an appropriate response."
9am: Prolonged gunfire erupted near Mugabe's private residence in the suburb of Borrowdale early Wednesday, a witness told AFP. No further details were available.
8.45am: Zimbabwe army says once mission accomplished, 'situation will return to normalcy'
8.25am: Zimbabwe military deny takeover in state TV address
"It is not a military takeover of government," said one general reading a statement.
"We wish to assure the nation that his excellency the president... and his family are safe and sound and their security is guaranteed.
8am: Aggressive soldiers told passing cars to keep moving through the darkness. "Don't try anything funny. Just go," one barked at Reuters on Harare Drive.
7.45am: Tensions between the 93-year-old leader and the military have intensified in recent days.
Close