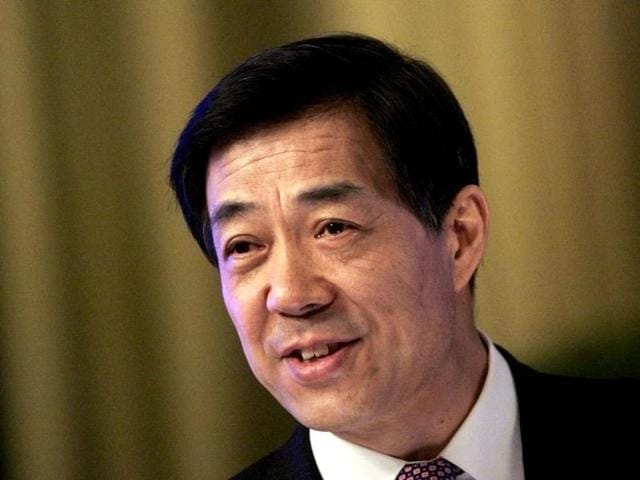 Bo Xilai charged with power abuse, bribery
Disgraced Communist leader Bo Xilai was charged on Thursday with bribery, embezzlement and power abuse, state media reported citing prosecutors from eastern China's Shandong province. Sutirtho Patranobis reports.
Hindustan Times | By Sutirtho Patranobis
, Beijing
UPDATED ON JUL 26, 2013 03:53 AM IST
Disgraced and suspended Communist Party of China leader Bo Xilai has not been seen since he was sacked from all positions last year. On Thursday, the Communist Party of China (CPC) brought charges of bribery, abuse of power and embezzlement against him. Bo or his lawyers were apparently present to fight but the indictment came without notice almost surreptitiously.
Bo, 64, was detained in March 2012 and stripped of his party positions in April. His party membership was cancelled in September.
The indictment papers, according to state-run Xinhua news agency, were delivered to the Jinan City Intermediate People's Court on Thursday morning.
"Bo, as a civil servant, took the advantage of his position to seek profits for others and accepted an "extremely large amount" of money and properties," the indictment paper said.
The amount of money involved has not been revealed yet but the charges said Bo - once the high-profile mayor and Communist Party of China (CPC) chief of Chongqing city - had embezzled huge amounts of public money.
"He also embezzled a huge amount of public money and abused his power, seriously harming the interests of the state and people," the document, quoted by state media, said.
"He had committed serious crimes and will be indicted on the charges of bribery, embezzlement and power abuse," it said.
Bo remains the only person to be sentenced in one of the most high-profile cases to have rocked the CPC and the government in decades.
His wife, Bogu Kailai, received a suspended death sentence - essentially life in prison - on August 20 from a court in Hefei, Anhui Province, for the intentional homicide of Briton Neil Heywood, a former family business partner. Wang Lijun, the former police chief of Chongqing, was sentenced to 15 years in prison on September 24 for abuse of power, corruption and defection.
Tracing Bo's rise to power, website Caixin Online, recalled that Bo, whose father was Bo Yibo, a senior party leader in the 1980s and 1990s, joined the party in 1980 and saw his political career take off.
"He was the mayor of Dalian, in the northeastern province of Liaoning, in the 1990s, and was appointed governor of that province in 2001. Bo served as commerce minister from 2004 to 2007," it said.
Close