International community comes to rescue of boat people
Three countries - Indonesia, Malaysia and the US - have come forward to give a helping hand to Rohingya migrants stranded at sea.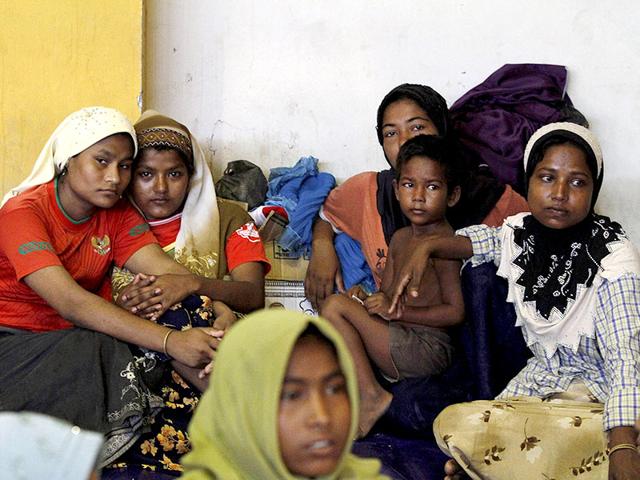 Updated on May 21, 2015 11:22 AM IST
Three countries - Indonesia, Malaysia and the US - have come forward to give a helping hand to Rohingya migrants stranded at sea.
Indonesia and Malaysia agreed on Wednesday to take in the migrants temporarily until they could be sent home or resettled elsewhere.
This comes in the wake of international pressure to save the migrants, many of them adrift in rickety boats for weeks with little food or water.
"It's extremely welcome news," said Joe Lowry, a spokesman for the International Organization for Migration in Bangkok. "It's the right thing to do. They should get the helicopters and planes and boats out there to look for these people."
Yet in a sign of the underlying problems that remained, the migrants' home countries, Bangladesh and Myanmar, did not participate in the talks in Malaysia that led to the agreement Wednesday. And Thailand, which has been a way station for the migrants - and, until recently, a haven for traffickers - did not agree to accept any migrants.
The agreement was reached as fishermen on the island of Sumatra in Indonesia rescued at least 370 migrants from sinking boats and brought them ashore. Those migrants included passengers from a boat that was spotted by journalists adrift in the Andaman Sea near Thailand and Malaysia last Thursday.
In the agreement announced Wednesday, Indonesia and Malaysia said they would "provide humanitarian assistance to those 7,000 irregular migrants still at sea." They also agreed "to offer them temporary shelter provided that the resettlement and repatriation process will be done in one year by the international community."
The United States is willing to take in Rohingya refugees as part of international efforts to cope with Southeast Asia's stranded boat people, the State Department has said.
Spokeswoman Marie Harf said yesterday that the US is prepared to take a leading role in any multi-country effort, organised by the United Nations refugee agency, to resettle the most vulnerable refugees.
In the past three weeks, more than 3,000 people Rohingya Muslims fleeing persecution in Myanmar and Bangladeshis trying to escape poverty have landed in overcrowded boats on the shores of various Southeast Asian countries.
Aid groups say thousands more are stranded at sea after human smugglers abandoned their boats because of a crackdown by authorities.
Indonesia, Malaysia and Thailand have been reluctant to let the Rohingya in and have turned boats full of hungry, thirsty people away, because they fear a flood of unwanted migrants. But yesterday, they relented.
Harf welcomed the governments' decision "to uphold their responsibilities under international law and provide humanitarian assistance and shelter to 7,000 vulnerable migrants."
The US would consider requests from the UN High Commissioner for Refugees and International Organisation for Migration for funds to help receive and screen refugees as they come to shore.
Harf said that since October 1, the US has resettled more than 1,000 Rohingya. Last year, the US accepted nearly 70,000 refugees people with a well-founded fear of persecution from around the world.
"I think the Malaysians and the Indonesians have requested some help resettling people. We're taking a careful look at the proposal," Harf told reporters in Washington. "It has to be a multi-country effort. We obviously can't take this all on ourselves. But we are prepared to play a leading role in this effort."
Deputy Secretary of State Anthony Blinken will visit Myanmar today and urge it to cooperate with Bangladesh to help migrants who are adrift. Harf said he would call for Myanmar to improve conditions inside the country for Rohingya.
"The only sustainable solution to the problem is changing the conditions that let them put their lives at risk at the first place," Blinken, the second-ranking US diplomat, told reporters in Indonesia.
Close Story
Personalise your news feed. Follow trending topics